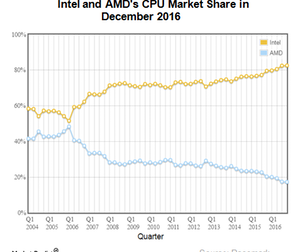 Microsoft, Qualcomm Face Challenges in Putting Windows on ARM
By Puja Tayal

Updated
Windows on ARM surrounded with challenges
In the previous part of this series, we saw that the partnership between Qualcomm (QCOM) and Microsoft (MSFT) would open the lower-cost mobile market for the two companies. However, challenging Intel (INTC) in its core market is no easy task.
Advanced Micro Devices (AMD) tried to compete with Intel in the PC processor market but failed. Although Qualcomm is in a better position than AMD to compete with Intel, it would still face technical challenges.
Article continues below advertisement
Emulation
Microsoft would make all Windows 10 applications run on Qualcomm's Snapdragon 835 ARM processor using emulation. The process of emulation slows down the performance of the applications. A similar attempt was made by startup Transmeta, which introduced a line of Crusoe chips that emulated X86 architecture at slower speeds while offering power efficiency.
However, Intel responded with a new line of low-powered chips that delivered power efficiency without compromising on performance—a move that put Transmeta out of business. Intel could do the same with Qualcomm by launching low-powered, low-margin processors and those that power Win64 applications. This move would remove the cost and power efficiency benefit offered by ARM processors.
Intel's superiority in process nodes
Another aspect is the 10nm (nanometer) node from Samsung (SSNLF), which Qualcomm is banking on. Samsung's 16nm chips are slightly better than Intel's 22nm chips, but they still lag behind the latter's 14nm chips.
When Intel launches its 10nm PC chips in fiscal 2018, it would pass Qualcomm's Snapdragon 835 in terms of performance less than one year from its launch. Even AMD would pose a challenge to Qualcomm as the former caters to the lower-end PC market.
Will Windows 10 work on ARM?
Another concern is that Microsoft failed in its first attempt to put Windows on ARM. At that time, most of the applications did not run on Windows RT, forcing Microsoft to scrap the project. This time around, there's some doubt whether Windows 10 would work flawlessly on ARM processors.
Another challenge is that ARM processors would offer Win32 applications while a consumer can get Win64 applications on Intel's processors. Despite these challenges, Windows in ARM processors poses a possible threat to Intel and brings an opportunity for Qualcomm and Microsoft.
Not only is Qualcomm making inroads in the laptop and notebook space, it's set to launch its first ARM-based server processor in 2H17. We'll look at this in the next part of the series.