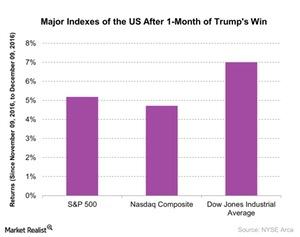 Carl Icahn: Market Has Run Ahead of Itself
By Sarah Sands

Updated
Carl Icahn talks to CNBC
On December 9, 2016, billionaire activist investor Carl Icahn discussed his views on the markets and Trump's potential impact on the economy and various sectors in an interview with CNBC.
Article continues below advertisement
Carl Icahn on markets
After the announcement of the US election results on November 9, 2016, Carl Icahn predicted that under a Trump presidency, the US economy (QQQ) (SPY) would experience a higher growth rate. He said that Donald Trump's Victory Is Good for the Market. Icahn said that on the night of the election, he bought stocks and took a long position in the futures market. He said, "I personally don't believe Donald Trump is bad for the market." According to him, the changes that Donald Trump wants will ultimately help the markets.
Within one month after Trump's win, US markets (IVV) (VOO) experienced a strong rally. The rally is still continuing and the market is heading for fresh new highs. At this point, Icahn said, "I do agree … [the market] is ahead of itself somewhat." The S&P 500 Index rose (SPY) (VFINX) 5.1%, the Nasdaq Composite rose 4.7%, and the Dow Jones Industrial Average (DIA) index has risen 7% in the month after Donald Trump's win.
During the interview, he said, "The market is not going up because Donald has gone and kept Carrier from going to Mexico. The market is going up – and maybe it's gotten ahead of itself, I'm not going to say it hasn't – but it is going up because it's perceived that this is going to be a very pro-business presidency and government."
In the next part of this series, we'll analyze Carl Icahn's view on different sectors of the economy.