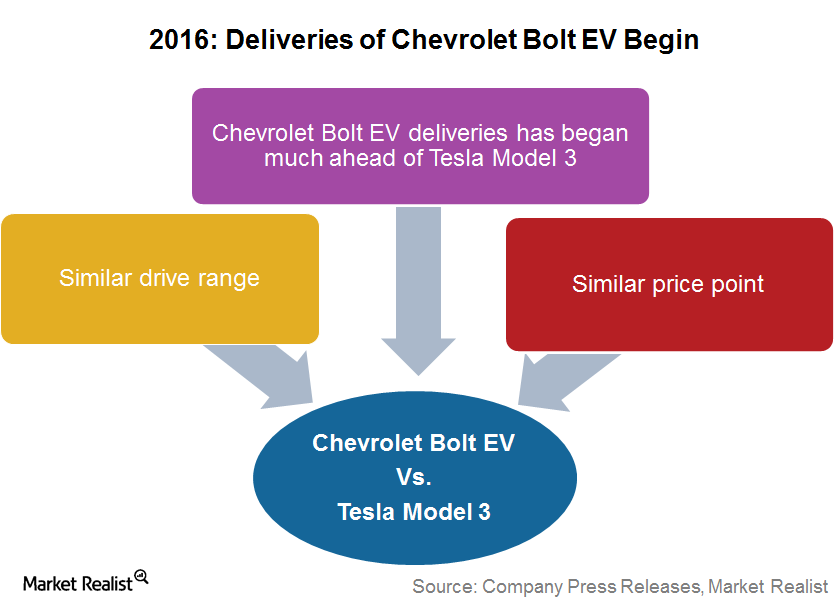 Can GM's Chevrolet Bolt EV Challenge Tesla Model 3?
By Jitendra Parashar

Dec. 23 2016, Updated 10:35 a.m. ET
Chevrolet Bolt EV
In 2015, General Motors (GM) announced Chevrolet Bolt EV, its first high range all-electric vehicle or EV. Notably, Chevrolet Bolt EV's driving range and the price point are quite similar to Tesla's (TSLA) upcoming Model 3.
While Tesla promises to deliver a driving range of 215 miles on a full charge, GM claims an estimated drive range of 238 miles with Chevrolet Bolt EV. But before the US federal tax credits, Bolt EV's MSRP (manufacturer's suggested retail price) starts at ~$37,500, as compared to $35,000 MSRP for Tesla Model 3.
Article continues below advertisement
Tough competition?
Tesla Model 3 appears to be luring customers with some additional features, however. Tesla claims that its Model 3 will be capable of going from 0 to 60 mph (miles per hour) within six seconds, and it will come equipped with hardware capable of full vehicle automation. (Tesla has made clear that this hardware will only start working after the company provides a software upgrade.)
On top of that, Tesla already has a wide network of superchargers in the US to support its electric vehicles, while GM has not yet started developing any such network. While Bolt EV still has that slightly higher driving range, it will be interesting to see if this factor will be enough to make it offer strong enough competition to Tesla's Model 3 going forward.
Bolt EV deliveries
On December 13, 2016, GM made first three deliveries of Chevrolet Bolt EV. Tesla has promised to begin delivering its Model 3 at the end of 2017. This factors could also favor GM.
We should note that in recent years, mainstream automakers (VCR) Ford Motor (F), Toyota Motor (TM), and Fiat Chrysler Automobiles (FCAU) have also shifted their focus toward vehicle electrification.
In the next part, we'll look at GM's valuation multiples.