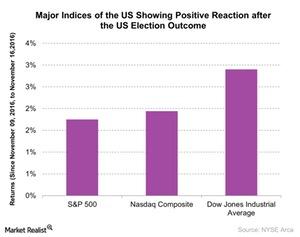 Ideas from Hedge Fund Managers at the Robin Hood Conference
By Sarah Sands

Dec. 7 2016, Updated 11:59 a.m. ET
Robin Hood Investors Conference
On November 28 and 29, 2016, various prominent policy experts, financial leaders, and fund managers such as Jamie Dimon, Whitney Tilson, Ray Dalio, Stanley Druckenmiller, David Einhorn, Jonathan D. Gray, and Samantha Greenberg shared their views on market (QQQ) (SPXL) and investment ideas at the Robin Hood Investors Conference in Brooklyn, New York.
Article continues below advertisement
Market overview
On November 8, 2016, US citizens elected Donald Trump as their next president. Before the announcement of the election's outcome, global markets showed huge sell-offs. After the announcement of the outcome, S&P 500 futures (SPY) and Dow futures recovered, closing on positive notes at the end of the day.
However, other developed markets (EFA) and emerging markets (EEM) (VWO) closed on negative notes. At present, the US market is showing strong movement.
As the global market is still showing some nervousness, investors are worried about their investments in various asset classes. Market participants and business houses are expecting huge policy changes under Trump's presidency.
The Federal Reserve's possible December rate hike is another event looming over the current investment scenario. Focusing on all these parameters, prominent fund managers provided their best investment ideas at the Robin Hood Investors Conference. Going forward in this series, we'll discuss these investment ideas.
In the next part of this series, we'll discuss the investment ideas provided by David Einhorn.