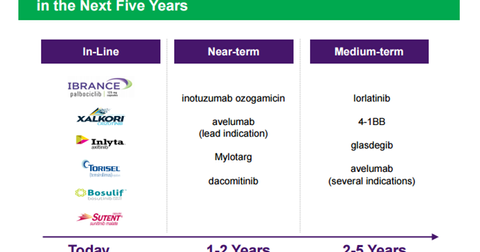 Avelumab: The First US Treatment for Metastatic Skin Cancer?
By Jillian Dabney

Dec. 13 2016, Updated 8:06 a.m. ET
Avelumab for MCC
Pfizer's (PFE) avelumab seems to be its potential growth driver for the next one to five years. Pfizer is developing the product for the indication of metastatic MCC (Merkel cell carcinoma) with its partner Merck KGaA.
On November 29, 2016, the FDA accepted EMD Serono's Biologics' License Application for avelumab. The product already holds Breakthrough Therapy and Fast Track designations for the indication of MCC in the United States. Additionally, it holds orphan drug status for the indication of MCC in the United States.
Article continues below advertisement
Opportunity in the metastatic MCC space
MCC is a rare and aggressive kind of skin cancer. It's estimated that each year, the disease affects 2,500 people in the United States. This kind of cancer is also known as neuroendocrine carcinoma of the skin. Currently, the available treatments for the disease are surgery, radiation, and chemotherapy. If approved, avelumab will be the first drug treatment for MCC patients.
Other PD-L1 (programmed death-ligand 1) and PD-1 (programmed death-1) class drugs being investigated for MCC include Bristol-Myers Squibb's (BMY) Opdivo and Merck & Co.'s (MRK) Keytruda.
PD-1/PD-L1 class drugs are a paradigm shift for cancer patients. Opdivo, Keytruda, and Roche's (RHHBY) Tecentriq are being studied in the treatment of multiple types of cancers. Opdivo, Keytruda, and Tecentriq are already being approved for other kinds of cancers. However, if approved, MCC will be the first indication for avelumab. We'll try to understand the opportunity for avelumab in the crowded PD-1/PD-L1 space in the next article.
If you invest in the VanEck Vectors Pharmaceutical ETF (PPH), you can gain exposure to Pfizer. The fund invests 5.0% of its assets in Pfizer.
Correction: This article originally claimed that the FDA accepted Pfizer's license application for avelumab. However, the application belonged to EMD Serono's Biologics, not Pfizer. We have updated the article, and we apologize for this error.