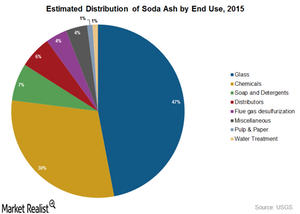 Analyzing Natural Resource Partners' Soda Ash Business
By Sheldon Krieger

Updated
Natural Resource Partners' soda ash business
Natural Resource Partners (NRP) diversified into the soda ash business with the acquisition of a 49% interest in Ciner Wyoming in January 2013. Ciner Wyoming mines trona, which is a primary source of soda ash in the US.
Ciner Wyoming refines trona into soda ash at its soda ash refinery in the Green River Basin of Wyoming. The Green River Basin in Wyoming holds the largest and one of the highest purity deposits of trona ore in the world and accounts for more than 90% of the soda ash supplies in the US.
Article continues below advertisement
The soda ash produced at Ciner Wyoming's site is sold through the company's affiliated sales agents to both domestic and international markets. According to NRP's company filings, based on the current rate of production, the trona ore reserves at Ciner Wyoming are estimated to last for more than 60 years.
End use of soda ash
According to the USGS (the United States Geological Survey), in 2015, 47% of the total soda ash produced in the US went towards the preparation of glass. Chemicals manufacturers consume about 30% of total domestic soda ash production. Other major consumers of soda ash include soaps and detergent manufacturers and distributors.
Ciner Wyoming's contribution to NRP's top line
For 2015, NRP's soda ash business contributed about $50 million to the company's top line, accounting for nearly 10% of NRP's consolidated revenues. The cash flows that NRP receives from Ciner Wyoming partly depend on the quarterly distribution declared by Ciner Resources (CINR), which owns a controlling stake in Ciner Wyoming. The quarterly distributions are in turn dependent on soda ash sales volumes and sales price, which determines the distributable cash flows of CINR.
Next, let's look at NRP's oil and gas (USO) business.