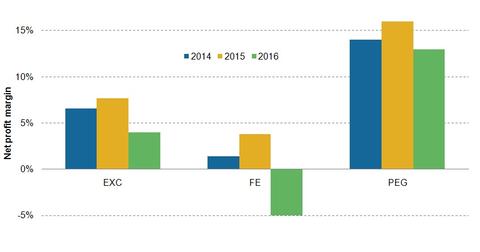 Analyzing Hybrid Utilities' Earnings and Growth Drivers
By Vineet Kulkarni

Updated
Hybrid utilities: Earnings
Hybrid utilities generate their earnings from a combination of regulated and competitive operations. Their competitive operations are vulnerable to wholesale power prices, which mainly brings volatility to their total earnings.
Exelon (EXC), the largest hybrid utility, derives more than half of its EPS from regulated operations. Its focus on expansion of regulated operations is expected to stabilize its earnings going forward.
Article continues below advertisement
Importantly, grounded wholesale power prices and lower demand have squeezed Exelon's margins in the last few years. As a result, Exelon's return on equity (or ROE) has fallen below 9% from nearly 20% five years ago. However, according to a recent report by Morgan Stanley, Exelon has a room to expand its ROE in its recently acquired PEPCO holdings.
The $22 billion Public Service Enterprise Group (PEG) is a transmission giant that gets more than 50% of its total earnings from regulated operations. PEG's transmission infrastructure is geographically well-located, which offers a higher return on equity.
FirstEnergy
FirstEnergy (FE) has been struggling during the last few years due to volatile power prices. Pennsylvania and Ohio are some of FirstEnergy's key markets.
As a part of this strategy, FirstEnergy has been reducing exposure to residential customers during the last few quarters, as they are more sensitive to weather changes. FE, like its peers, has also been increasing its investments to increase the earnings contribution from regulated operations.
Power prices revival could help utilities
A colder-than-normal winter is expected in the US from December 2016 to March 2017, which could increase electricity consumption nearly 4%. This could boost power prices, which would benefit competitive utilities (XLU).