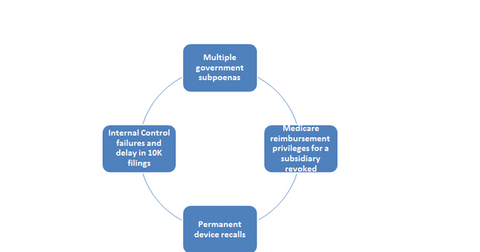 Alere's Response to Abbott Laboratories's Lawsuit to Terminate the Merger
By Sarah Collins

Updated
Alere's response
On December 7, 2016, Alere (ALR) released a statement regarding the ongoing legal issues surrounding the pending merger with Abbott Laboratories (ABT), noting, "Abbott's lawsuit is entirely without merit. As Abbott well knows, none of the issues it has raised provides it with any grounds to avoid closing the merger.
"Alere has fully complied with its contractual obligations under the merger agreement and is highly confident that the merger will be completed in accordance with the terms set forth in the merger agreement. Alere will take all actions necessary to protect its shareholders and to compel Abbott to complete the transaction in accordance with its terms."
Alere denied claims that any of the events that occurred during the last ten months would constitute any material change to the company's value. As a result, the company contends that the termination of the agreement cannot take place.
Alere is pushing Abbott Laboratories to complete the deal. In August 2016, it filed a lawsuit in the Delaware Court of Chancery to force Abbott to move ahead with the necessary obligations of the deal. The lawsuit is currently pending.
Article continues below advertisement
Abbott's lawsuit triggers MAE clause
Stock impact
Alere (ALR) stock has fallen ~31% since the highs it reached after the February 1, 2016, announcement of its acquisition by Abbott Laboratories. However, its stock fell even after posting its better-than-expected 3Q16 results on October 19, 2016. This was partly due to the ongoing difficulties between Abbott Laboratories and Alere related to the acquisition deal. During the same timeframe, Abbott Laboratories stock has risen ~0.6%. 
Investors can gain diversifed exposure to Abbott Laboratories by investing in the Vanguard Value ETF (VTV). VTV has ~0.50% of its total holdings in ABT. VTV also has exposure of about 2.6% and 1.7% to Abbott Laboratories's peers Johnson & Johnson (JNJ) and Pfizer (PFE), respectively.