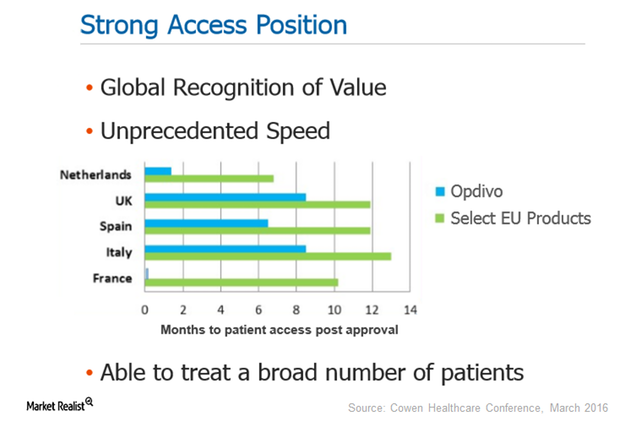 Yes, It's a Similar Label for Opdivo and Tecentriq in Lung Cancer
By Jillian Dabney

Nov. 21 2016, Updated 8:04 a.m. ET
Opdivo positioned to succeed—despite stiff competition 
Bristol-Myers Squibb's (BMY) key growth driver, Opdivo, competes with Merck's (MRK) Keytruda and Roche's (RHHBY) Tecentriq. Despite fierce competition in the lung cancer space, Opdivo is leading with its superior safety and efficacy profile. The drug is able to treat a larger population base and holds global recognition of the value and strong access position.
Perhaps, these will be the major factors behind Opdivo's success. If you want exposure to Bristol stock, you can invest in the S&P 500 SPDR ETF (SPY), which has 0.5% of its portfolio in Bristol.
Article continues below advertisement
Roche's Tecentriq
With Tecentriq (atezolizumab), Roche became the third company to enter the lung cancer market. Merck was the first entrant, followed by Bristol. Roche's Tecentriq is the first approved PD-L1 inhibitor, while Opdivo and Keytruda are PD-1 (Programmed death-1) blockers.
During its OAK clinical study, Tecentriq showed significant improvement in OS (overall survival), despite of PD-L1 status in metastatic NSCLC (non-small cell lung cancer) patients.
Now the drug is set to challenge Opdivo with a similar kind of label, treating all NSCLC patients regardless of PD-L1 expression. In this particular space, Keytruda might face a major disadvantage as it's being indicated for only PD-L1 positive lung cancer patients. For details on Tecentriq's various studies, please read "Six Advanced Studies for Roche's Atezolizumab."
Tecentriq was already approved for the indication of advanced bladder cancer. RHHBY is exploring the drug for multiple other indications such as prostate cancer, solid tumors, and first-line lung cancer. Of the 15 clinical trials in lung cancer space, 7 studies are in Phase 3, investigating Tecentriq in first-line lung cancer indication.
In the next part, we'll elaborate on AstraZeneca's (AZN) Durvalumab, a PD-L1 (Programmed death-ligand 1) inhibitor-class drug that might also be an up-and-comer.