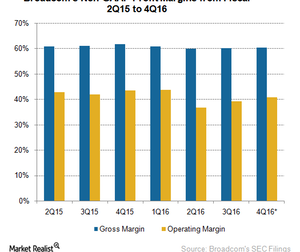 Will Orders from Apple Push Broadcom's Fiscal 4Q16 Profit Margin?
By Puja Tayal

Updated
Broadcom's revenue growth may increase its profit margins
In the previous part of the series, we saw that Broadcom (AVGO) is likely to report double-digit revenue growth, driven by strong orders from Apple (AAPL). Even though Avago reduced its exposure to the wireless market with its acquisition of Broadcom, Apple continues to command 25% of Broadcom's revenue, according to Pacific Crest analyst Michael McConnell.
Let's see how this strong revenue could be reflected in Broadcom's profits.
Article continues below advertisement
Gross margin
Broadcom has maintained a non-GAAP (generally accepted accounting principles) gross margin of between 60% and 62% over the past six quarters. It expects to report a gross margin of 61% in fiscal 4Q16 as well.
In November 2015, Broadcom acquired a computer chip factory in Eugene, Oregon, for $21 million. It had intended to spend $400 million redesigning the factory to manufacture smartphone components, but things changed over the past year. 
The smartphone market has slowed: Apple reported its first fall in iPhone sales in 2016, and Qualcomm's (QCOM) revenue growth slowed. In light of these new developments, Broadcom abandoned its plans to redesign the Eugene facility. Instead, the company is now looking to sell the facility as it reduces its exposure in the wireless space.
Article continues below advertisement
Operating margin
As seen in the above graph, Broadcom's non-GAAP operating margin fell below 40% in fiscal 2Q16 as Apple reported its first fall in iPhone sales. The chipmaker gradually increased its margin as it realized cost synergies from the Broadcom merger. For fiscal 4Q16, Broadcom expects its operating expenses to remain flat at $808 million.
If the company reports a gross margin of 61% on revenue of $4.1 billion, its operating margin could rise to 41.4% in fiscal 4Q16.
However, one addition to the company's legal expenses will come in fiscal 1Q17. Invensas filed a patent infringement lawsuit against Broadcom on November 7, 2016, alleging that AVGO's FBAR (Film Bulk Acoustic Resonator) filter devices infringe two of Tessera Technologies' patents. This could have an impact on Broadcom's operating expenses in fiscal 2017.
After its successful integration of Broadcom, AVGO is now preparing to acquire Brocade Communications Systems (BRCD). The impact of this should reflect in its revenue and profit in fiscal 2H17.
Next, let's look at Broadcom's four business segments and the factors that could drive growth in each of these segments.