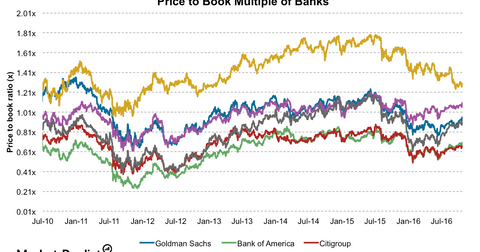 Which Banks Look Attractive Under a Trump Presidency?
By Rebecca Keats

Updated
Price-to-book ratios
Generally, banking stocks (XLF) trade between 1x and 2x their book values. Stocks trading lower than their book values attract investors' attention because they're considered to be generating extremely poor returns.
The PBV (price-to-book value) compares a company's current market price to its book value. These ratios are commonly used to compare financial services companies because most banks' assets and liabilities are constantly valued at market values. If a company trades lower than its book value, it means that either its asset value is overstated or that it's generating a poor return on its assets.
Article continues below advertisement
Wells Fargo's (WFC) book value has risen twice as much as JPMorgan Chase's (JPM) and ten times as much as Bank of America's (BAC) in the past ten years. It's been one of the most profitable banks in America, generating a 1.3% return on assets in 2015. However, recent scandals have marred its reputation and could push its valuation lower.
Currently, Citigroup (C), Goldman Sachs (GS), and Bank of America are trading below their book values. Such cheap valuations are generally associated with banks in crisis and are signs of poor profitability. However, if interest rates rise and trading activities pick up, profitability could improve for these companies, giving them significant upside potential. Wells Fargo and JPMorgan are currently trading at a premium to C, GS, and BAC.