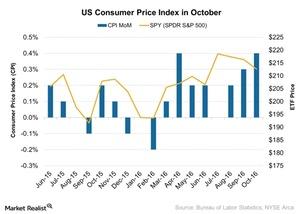 US Consumer Price Index Improved: Will It Affect the Fed's Decision?
By Sarah Sands

Updated
US consumer price index rose in October
According to a report from the United States Bureau of Labor Statistics, US CPI (consumer price index) rose 0.4% in October 2016 compared to a 0.3% rise in September 2016. The October reading met analyst expectations and it was the highest increase since May 2016.
The rise in the consumer price index was mainly due to the higher price of gasoline and energy costs. However, food prices fell for the second month in October. It was the third consecutive month of flat food prices. On a yearly basis, the consumer price index stood at 1.6% as of October 2016 as compared to 1.5% in September 2016. The figure is still below the Fed's target level of 2%. However, the improvement in consumer price index is an important sign for Fed policymakers. The decision to maintain interest rates in September was mainly due to a slower increase in inflation. However, these figures are raising confidence that the Fed could hike the interest rates at its December meeting.
Article continues below advertisement
Rate hike expectations
According to many market participants, a rate hike is appropriate when the economy (VFINX) (SPY) (QQQ) shows strength. Many fund managers say that the Fed lacks confidence and that it's ignoring many important indicators in regards to the condition of the US economy (VOO) (IWM).
In the next part of this series, we'll analyze the performance of the weekly crude oil inventories for the week ended on November 11, 2016.