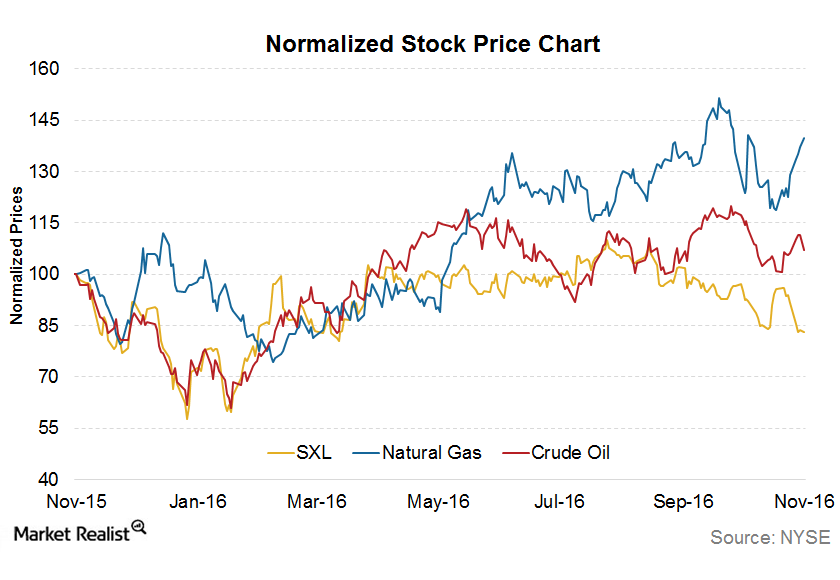 Sunoco Logistics' Commodity Price Exposure: Key for Investors
By Kurt Gallon

Dec. 1 2016, Updated 10:04 a.m. ET
Commodity price exposure
The earnings of large midstream companies such as Sunoco Logistics Partners (SXL) and Energy Transfer Partners (ETP) as well as of smaller ones such as Crestwood Equity Partners (CEQP) and NGL Energy Partners (NGL) are believed not to have much direct commodity price exposure.
Specifically, the correlation between SXL's stock price and crude oil (USO) has resulted in a correlation coefficient of 0.58 over the past year, while natural gas (UNG) and SXL have had a correlation coefficient of 0.06 during the same period. The correlation between SXL and crude oil has risen to 0.60 in the past three months.
Article continues below advertisement
Remember, a correlation coefficient close to 1.0 can indicate a strong relation between two variables, and so SXL's low correlation with natural gas reflects its low natural gas exposure. At the same time, SXL's high correlation with crude oil reflects its high crude oil exposure mainly through crude oil and NGL (natural gas liquids) acquisition and marketing business.
SXL's correlation with natural gas is expected to increase after its merger announcement with Energy Transfer Partners' natural gas midstream business.
Indirect commodity exposure
Midstream companies are indirectly exposed to commodity prices through production levels. If crude oil and natural gas prices continue to stay low, upstream producers might cut their production or even go bankrupt, which might result in lower throughput volumes, lower earnings, and higher counterparty risk. SXL's throughput volumes have been negatively impacted by declines in Eagle Ford and Bakken production. At the same time, SXL is benefitting from resilient Permian volumes.
SXL's throughput volumes are expected to get a boost amid the recovery in the Permian and the Marcellus and Utica regions. SXL Chief Executive Officer Mike Hennigan stated: "We're trying to position ourselves such that we can do well in the current markets and then really thrive if the market recovers from a demand standpoint…I personally remain very bullish on global demand."
Hennigan added that "in time, you're going to see US supply needing to come up to meet that [demand]…I think we're pretty [well] positioned to take advantage of that."