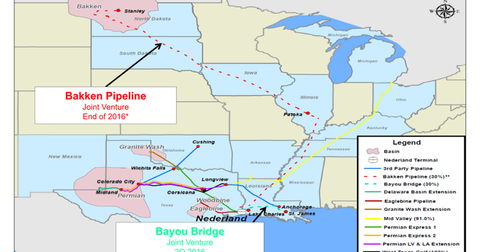 Inside Sunoco Logistics' JV with ExxonMobil: Key Highlights
By Kurt Gallon

Updated
Sunoco Logistics and ExxonMobil
Sunoco Logistics Partners (SXL) and ExxonMobil (XOM) have decided to form a JV (joint venture) in which a new entity called Permian Express Partners would be formed to combine certain crude oil assets.
According to a press release, Sunoco Logistics stated that it will transfer its "Permian Express 1, Permian Express 2 and Permian Longview and Louisiana Access pipelines. ExxonMobil will contribute its Longview to Louisiana and Pegasus pipelines, Hawkins gathering system, an idle pipeline in southern Oklahoma, and its Patoka, Illinois, terminal."
SXL would own 85% in Permian Express Partners while ExxonMobil would hold the remaining 15%. According to the press release, "ExxonMobil and its affiliates will enter into a preferred provider agreement with the joint venture."
Many partnerships including EnLink Midstream Partners (ENLK) and Crestwood Equity Partners (CEQP) have formed similar JVs in capital-intensive projects to lower their capital burden and leverage under the current challenging price environment.
Article continues below advertisement
Management commentary
According to Michael Hennigan, SXL's Chief Executive Officer, "This combination of certain strategic crude oil assets, together with our existing and recently acquired Midland Basin assets, greatly enhances our service capabilities for the Permian Basin, one of the most prolific shale areas with incredible growth opportunities. We expect to achieve significantly greater long-term accretion as domestic crude oil production grows over time."
Before this, SXL announced the acquisition of Vitol's integrated crude oil business in the Midland Basin, including 50% interest in the SunVit Pipeline. After the acquisition, SXL would own 100% in the pipeline system.