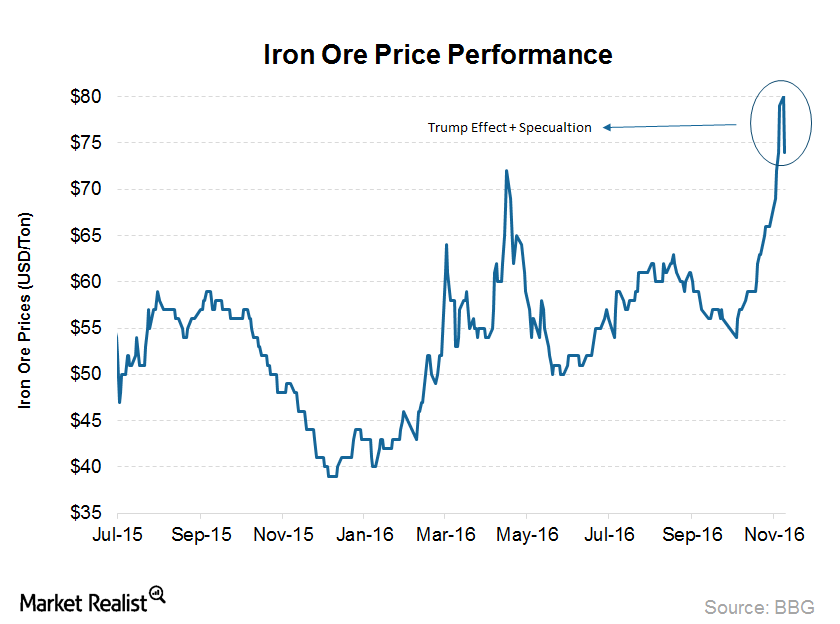 Did Iron Ore Speculation Cause the Spike in Spot Prices?
By Anuradha Garg

Nov. 25 2016, Updated 11:04 a.m. ET
Speculative frenzy in iron ore
Iron ore prices have risen since the beginning of the year, contrary to analysts' expectations. While Chinese demand fundamentals were boosted by the country's announcement of further easing and public spending, most market participants believed it wasn't enough to kick-start a rally of the magnitude we've seen. There was a bout of speculative frenzy in commodities, including iron ore, in April 2016, and there are concerns of the same happening following Trump's US election win.
Article continues below advertisement
Iron ore prices spiked to a two-year high in November. They touched a high of $80 per ton on November 14. Investors celebrated Trump's victory and his stance on infrastructure spending, which boosted commodities such as iron ore, coal, copper, and aluminum. The surge in iron ore was not as supported by the fundamentals—the supply-demand equation still remains unbalanced, with supply taking the upper hand.
This situation raised concerns about speculative trading supporting the iron ore price rally in the futures market. Along with prices, commodity (COMT) volumes also saw an unprecedented rise.
Authorities clamp down
The recent activities have caused Chinese regulators to clamp down. On November 18, the Shanghai, Dalian, and Zhengzhou commodity exchanges raised transaction charges and margin requirements. These exchanges also took strict actions against some big clients for violating trading rules.
Impact of the crackdown
These measures have allowed for some sanity to prevail in the futures market. The most actively traded futures contract on the Dalian Commodity Exchange fell for two consecutive days, by more than 12%. The impact was also visible in steel bar and copper futures.
Having said that, we note that there could be continued volatility in the market, both on the upside and downside. This volatility could be driven by catalysts such as the ramping up of Vale's (VALE) and Roy Hill's S11D project. More easing announcements from China could lead to another upward spike.
The lower prices from the crackdown are negative for iron ore producers such as BHP Billiton (BHP) (BBL), Rio Tinto (RIO), and Cliffs Natural Resources (CLF).