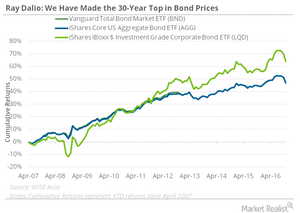 Ray Dalio: 'We Have Made the 30-Year Top in Bond Prices'
By Surbhi Jain

Nov. 22 2019, Updated 6:08 a.m. ET
Ray Dalio sees a bond market reversal
In his November 15 post, Ray Dalio seemed to hint at a bond price reversal. From what Dalio said in his post, "we think that there's a significant likelihood that we have made the 30-year top in bond (BND) (AGG) (LQD) prices. We probably have made both the secular low in inflation and the secular low in bond yields relative to inflation."
Article continues below advertisement
Bond investors, be prepared
So, if we've reached the top in bond (TLT) prices, one can only expect a reversal from here. Bond investors need to be prepared. Yields have been low for quite a while now. The Fed's low-interest-rate policy has been instrumental in this regard. But with the Fed currently looking to tighten (that is, raise interest rates) in December, investors may see yields trending only northward from where they are. Bond yields and prices move in the opposite direction.
Investors who have already been investing in bonds (HYG) (JNK) stand to get hurt if and when the reversal takes place. The logic is that these holders have seen their effective durations (a measure of the riskiness of bonds) lengthening. Thus, with a slight increase in interest rates and thus yields, we may see a huge impact on bond prices, much greater than the rise they profited from when yields went down.
Dalio cautions investors
However, Dalio does caution investors of a point where "the rise in nominal (and, more importantly, real) bond yields and risk premiums start hurting other asset prices." To a good extent, this will likely depend on how the rise in inflation and growth are accommodated in the economy.