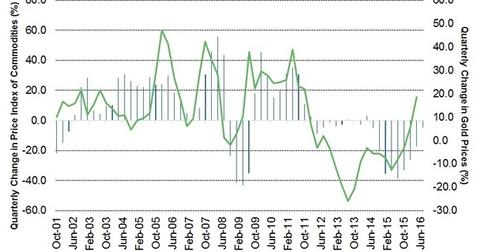 Rate Hike and Appreciated Dollar May not help Gold
By VanEck

Updated
Higher Rates Not Always Negative for Gold
A Fed rate hike in December appears almost fully priced in already. The common argument is that higher rates are negative for gold given that it is a non-yielding asset. Yet, following the first rate hike of the current tightening cycle in December 2015, gold has advanced more than 20% so far this year. In fact, Scotiabank analyzed the previous six tightening cycles since 1982 (when a suitable gold index became available) and it found that gold prices advanced in the year following the first rate increase in half of the cycles, whereas gold declined in the other half.
Article continues below advertisement
Market Realist – Preference over interest-yielding assets
Gold (GLD) (IAU) prices fell soon after Donald Trump's election victory due to the appreciating US dollar (UUP). The dollar index rallied for ten consecutive sessions, rising to its highest level since 2003. The federal reserve rate hike has already been priced into commodity (DBC) (USO) and equity markets.
Investors are already accounting for an increase in borrowing costs and bond (BND) (JNK) yields. The increase in interest rates is expected to have a negative impact on gold prices, as gold is not an income-yielding asset. Therefore, investors have started dumping gold and moving towards interest-yielding assets.
Last week, investors sold 30.5 metric tons of gold from bullion-backed funds, the most in three years. According to data compiled by Bloomberg, bullion-backed ETFs fell 8.5 tons to 1,940.6 tons on November 17, 2016, the lowest level since July 2016. Gold prices are expected to remain volatile (VIXY) (VXX) in the near term due to Trump's inflationary policies, which may increase the possibility of a rate hike and dollar appreciation. An appreciated dollar and rising yields do not seem to be playing out well for precious metals (GDX) (SLV).