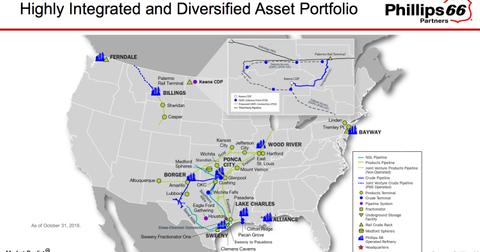 Inside Phillips 66's Focus on Fully Integrated Downstream
By Maitali Ramkumar

Updated
Phillips 66's segments
In addition to its Refining segment, Phillips 66 (PSX) has Midstream, Chemicals, and Marketing segments. These segments create an entire supply chain capable of supporting core operations and enhancing returns.
Phillips 66's refining capacity stands at 2.1 million barrels per day. The company is continuously focusing on improving product yields and reducing feedstock cost to improve its margins. PSX also plans to optimize its Midstream, Chemicals, and Marketing segments' assets to align with its Refining assets and provide better returns.
Of the company's total capital expenditure or capex guidance of $3 billion for 2016, PSX plans to incur $1.1 billion in its Refining segment for sustenance and growth projects.
Article continues below advertisement
Phillips 66 updated its FCC (fluid catalytic cracker) at the Wood River refinery, which increased its ability to process heavy crude. PSX is also modernizing the FCC at the Bayway refinery to produce higher value, lighter products. The company is also carrying out a project to utilize 100% heavy crude and process high acid crude at the Billings refinery.
Midstream
Phillips 66's Midstream segment is subdivided into transportation, DCP Midstream, and NGL (natural gas liquids). Transportation includes Phillips 66 Partners LP (PSXP), which was formed to own, operate, grow, and acquire fee-based transportation and midstream assets. On October 31, 2016, Phillips 66 held 61% interest in PSXP, including 2% general partner interest.
PSXP grew in 2H16 via the inorganic growth path. The company raised its stake in Explorer pipeline, acquired 50% stake in Plains All American Pipeline and acquired South Louisiana NGL logistics assets. Year-to-date, Phillips 66 has carried out $2.3 billion in dropdown transactions with PSXP, which includes assets in the Sweeny fractionator, the Clemens NGL caverns, and 30 Phillips 66 crude, products, and NGL logistics assets.
Chemicals and marketing
The Chemical segment manufactures and markets petrochemicals and plastic products globally. The segment includes 50% equity investment in CPChem (Chevron Phillips Chemical). PSX's petrochemical project in the US Gulf Coast has approached 85% completion and is expected to start up by 2H17.
This project will raise the olefin and polyolefin capacity of CPChem by one-third. In its marketing segment, Phillips 66 (PSX) markets refined and specialty products like base oils and lubricants in the US and Europe.
Notably, the iShares Global Energy ETF (IXC) has ~5% exposure to refining sector stocks.