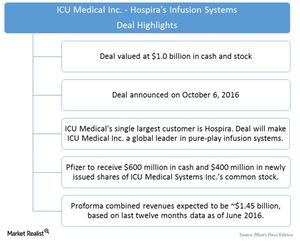 Pfizer Divests Hospira's Infusion System Business to ICU Medical
By Mike Benson

Nov. 29 2016, Updated 3:05 p.m. ET
The deal   
On October 6, 2016, the California, US-based ICU Medical entered into a definitive agreement to acquire Hospira's Global Infusion System business. The deal is valued at around $1 billion and is expected to be completed in the first quarter of 2017. This deal will strengthen ICU Medical's global portfolio of infusion systems.
Article continues below advertisement
What is Hospira's Infusion System Business?
Hospira's infusion system business is a subsidiary of Pfizer (PFE), located in Illinois, and provides injectable drugs products and infusion technologies. It includes intravenous pumps, solutions, and devices.
The business was acquired by Pfizer as a part of Pfizer-Hospira deal, which was completed in September 2015 in order to strengthen Pfizer's established pharmaceuticals business.
Key highlights of the deal
Key highlights of the deal include the following:
The deal is valued at $1.0 billion in cash and stock.
Pfizer will receive $600 million in cash and $400 million in newly issued shares of ICU Medical Systems' common stock.
Proforma combined revenues are estimated at ~$1.5 billion, based on last-twelve-month sales as of June 2016.
The infusion system business will help ICU Medical as a global leader in pure-play infusion systems.
Hospira's Infusion System business is the largest single customer of ICU Medical. Through this deal, ICU Medical eliminates its single customer concentration issue and will enhance its product portfolio emerging as a leader in the global infusion business. It will also have access to the entire US market for infusion products.
To divest risk, investors can consider ETFs like the iShares US Healthcare ETF (IHE), which has ~8.1% of its total investments in Pfizer. IHE also has ~9.6% of its investments in Johnson & Johnson (JNJ), ~7.8% in Merck (MRK), and ~6.1% in Bristol-Myers Squibb (BMY).