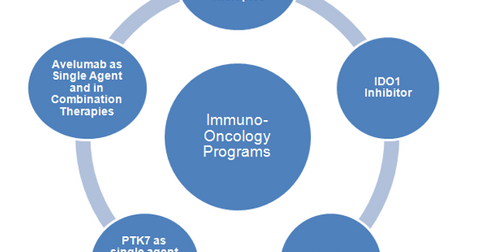 Pfizer Makes Progress with Its 2016 Immuno-Oncology Programs
By Margaret Patrick

Updated
Immuno-oncology programs
Pfizer (PFE) is currently exploring ten different compounds in a clinical setting. Including various combination therapies, the company is actively involved in 30 research programs in the immuno-oncology space.
Pfizer expects to develop various doublet and four triplet immuno-oncology therapies by 2017 and six triplet immuno-oncology therapies by 2018. These combination therapies will include immuno-oncology drugs such as 4-IBB, OX-40, avelumab, other immuno-oncology agents, chemotherapy agents, antibody drug conjugates, and small molecules. These therapies are expected to target a wide range of cancers such as blood cancer, lung, ovarian, and gastric cancers.
If these research programs are successful, Pfizer's share price could rise along with the price of the Vanguard High Dividend Yield ETF (VYM). Pfizer makes up about 2.3% of VYM's total portfolio holdings.
Article continues below advertisement
Avelumab's research programs
Together, Pfizer and Merck have planned to submit an application to the FDA seeking approval for the investigational drug avelumab as a therapy for metastatic Merkel cell carcinoma by the end of 2016. On October 31, 2016, the European Medicines Agency (or EMA) accepted the avelumab application for review.
With 3,000 people enrolled in clinical trials, avelumab is being explored as a monotherapy as well as in combination with other biologic drugs or chemotherapy agents in oncology regimens. To know more about the various avelumab research programs, read Pfizer Aims to Position Avelumab as Backbone Immuno-Oncology Therapy.
Other research programs
Pfizer is also exploring OX40 as a monotherapy and a combination therapy with avelumab and 4-1BB. Antibody-drug cognate PTK7 is being explored for the treatment of ovarian cancer as well as in combination with avelumab.
Additionally, Pfizer is working in programs involving IDO1 inhibitor and CAR-T cells. A solid immuno-oncology portfolio will enable Pfizer to pose strong competition to other oncology players such as Merck & Co. (MRK), Eli Lilly (LLY), and Celgene (CELG).