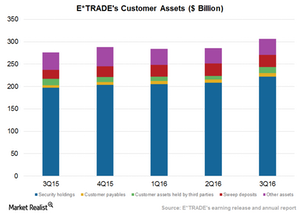 OptionsHouse Acquisition: E*TRADE Expands Accounts and Assets
By Robert Karr

Nov. 21 2016, Published 1:18 p.m. ET
Expanding assets
E*TRADE Financial (ETFC) will likely see more asset gathering after the OptionsHouse acquisition. Penetration towards derivatives can lead to higher DARTs (daily average revenue trades). The company ended 3Q16 with $307 billion in total customer assets—compared to $286 billion at the end of 2Q16 and $277 billion in 3Q15. The company added new brokerage assets of $5.4 billion—compared to $1.6 billion in the previous quarter and $1.9 billion in 3Q15.
Article continues below advertisement
E*TRADE successfully attracted more clients for retirement funds. The retirement funds represent almost one-third of the company's total assets with strong growth over the past few years. The company is positioning as an integrated platform for clients seeking long-term financial investment and planning. It saw an expansion of assets targeting retirement, planning, and wealth generation. It can be beneficial to long-term sustainable earnings.
Here's how a few of the company's competitors in the industry performed in terms of net profits in the last fiscal year:
TD Ameritrade Holding (AMTD) – $813 million
Charles Schwab (SCHW) – ~$1.5 billion
Interactive Brokers Group (IBKR) – $415 million
Together, these companies account for 4.7% of the First Trust Dow Jones Internet ETF (FDN).
OptionHouse addition
E*TRADE ended 3Q16 with 3.4 million brokerage accounts—compared to 3.2 million 3Q15. The company added 162,000 new accounts, including 148,000 from the OptionsHouse acquisition. In 3Q16, excluding the acquisition, the company added 14,000 net new brokerage accounts.
For 3Q16, the brokerage account attrition rate was 8.0% annualized—marginally lower than 8.3% the previous quarter. The company expects to add new accounts with in line attrition rates in the upcoming quarters.
Its brokerage-related cash grew by $5.3 billion to $48.3 billion during 3Q16—compared to the previous quarter. Its clients were a net seller of ~$2.4 billion in securities.