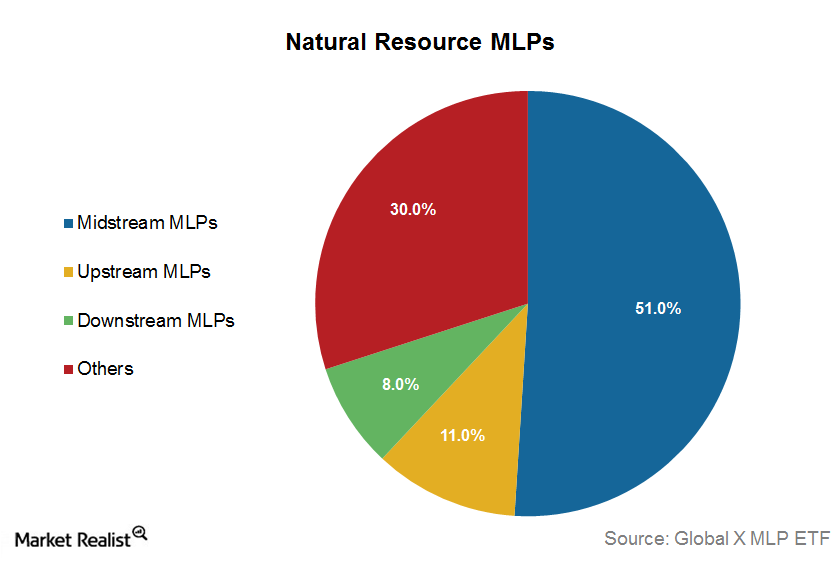 Why Midstream Companies Continue to Dominate the MLP Sector
By Kurt Gallon

Nov. 28 2016, Updated 3:22 p.m. ET
Midstream MLPs       
Midstream companies dominate natural resource MLPs and the overall MLP sector. The fixed-fee-based revenue generated under long-term contracts protects MLPs from volatility in commodity prices, resulting in stable cash flow. We'll look at MLPs' commodity price exposures in a later article.
Midstream companies account for more than 51% of the MLP space. We'll be focusing mainly on midstream MLPs in this series.
Article continues below advertisement
Upstream MLPs
Only 8% of MLPs are upstream MLPs, which are involved in crude oil and natural gas exploration and production. Upstream MLPs have high direct commodity price exposures, resulting in volatile cash flows. Upstream MLPs have continued to distribute income to unitholders, while crude oil prices have traded close to their historical lows and have relied upon external borrowings to fund their growth capital expenditure plans.
Some upstream MLPs, including Breitburn Energy Partners and Linn Energy, couldn't manage to stay afloat in the sustained low price environment. Currently, only numbered upstream MLPs such as Vanguard Natural Resources (VNR) and Memorial Production Partners (MEMP) are left. These MLPs are also going through liquidity crises and dealing with high leverages. For more details, read Which Upstream MLP Could Announce Bankruptcy Next?
Downstream MLPs
Downstream MLPs, which are generally involved in crude oil refining services, make up 8% of natural resources MLPs. Downstream MLPs benefited from falling crude oil prices due to the widening of the crack spread. Some well-known downstream MLPs include CVR Refining (CVRR) and Alon USA Partners (ALDW).
The remaining natural resources MLPs include companies involved in coal, retail propane, marine transportation and services, and offshore oilfield services. Some coal-based MLPs went bankrupt as the US energy mix shifted to cleaner power sources such as natural gas and renewable energy.
However, investor confidence toward coal-based MLPs has started recovering following Donald Trump's victory in the US presidential election. Trump has plans to revive the US coal sector.