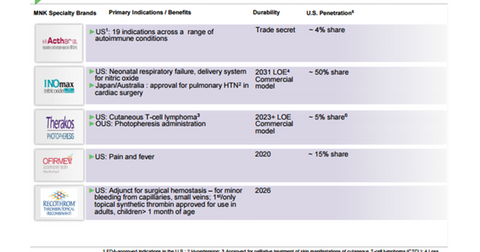 Mallinckrodt's Greater Dependence on Acthar and Generic Business
By Jillian Dabney

Nov. 28 2016, Published 6:25 p.m. ET
Acthar's higher exposure to government-oriented franchise
Mallinckrodt (MNK) has recently been making news due to its business model being questioned. A Citron Research report focused on the sustainability of Acthar's higher level of exposure to government-oriented franchise. Additionally, there were allegations that Mallinckrodt failed to disclose the exact reimbursement numbers for Acthar in its third quarter conference call. Acthar may have been targeted because it's a major contributor to MNK's revenue, making up ~30% of the total. Citron has made earlier accusations against Valeant Pharmaceuticals (VRX).
Article continues below advertisement
During the Jefferies 2016 London Healthcare Conference, Mallinckrodt provided the exact numbers on the lead drug's reimbursements. Acthar's Medicare exposure ranges around 40%, while Medicaid's is in the mid-single-digit range. We'll discuss the factors behind the drug's higher exposure to these government-oriented franchises in detail in the next part. Meanwhile, to understand more about Acthar and Mallinckrodt, please refer to Understanding Acthar's Contribution to Mallinckrodt's Top Line.
Along with Acthar, Mallinckrodt's specialty brand portfolio consists of Ofirmev, Inomax, Therakos, and Recothrom. If Mallinckrodt successfully grew its other products, its dependence on Acthar would be reduced and its share price might jump. To get indirect exposure to Mallinckrodt, you could invest in the SPDR S&P 500 ETF (SPY). Mallinckrodt accounts for 0.03% of SPY's total holdings.
Higher dependence on Acthar and generic business
During the third quarter of 2016, Acthar's revenue totaled $298.3 million, contributing 30.7% of MNK's top line. The generic business contributed 27% of MNK's overall revenue during the period. Around 58% of MNK's revenue was flowing from these two businesses. Therefore, the company plans to diversify the dependence on these two franchises over time. For more information on Mallinckrodt's 3Q16 performance, you can read A Look at Mallinckrodt's Operating Segments.
Mallinckrodt, with estimated revenue of $3.4 billion and a market capitalization of $6.2 billion in 2016, seems to be greatly discounted and could present a good investment opportunity. In its specialty business, Mallinckrodt competes with Endo International (ENDP) and Teva Pharmaceutical (TEVA).