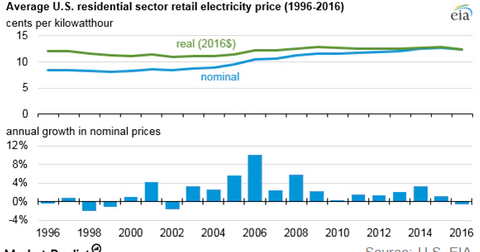 A Look at US Electricity Prices and the Factors Impacting Them
By Vineet Kulkarni

Updated
US electricity prices
US electric utilities generally obtain their revenues from retail and wholesale operations. Their retail operations can be divided into three segments: residential, commercial, and industrial.
US residential electricity prices are the most expensive in the retail distribution sector. Utility companies realize higher profit margins from residential customers but, at the same time, residential sales are more vulnerable to weather changes. Industrial electricity prices are relatively cheaper compared to residential and commercial categories, resulting in lower margins.
Article continues below advertisement
Price changes
Fuel prices have a significant influence on electricity tariffs. Lately, natural gas price changes have had a great influence on power prices. According to the EIA (U.S. Energy Information Administration), residential customers paid 0.7%, or 12.4 cents, less per kilowatt-hour in the first half of 2016 than in 1H15. Lower natural gas prices drove this reduction.
Regulatory policies also play a key role in deciding power prices. In regulated states, utilities (XLU) (VPU) file rate cases for revenue requirements for the capital expended in their operational territories. Utilities charge customers on the basis of capital spending in that particular operating area plus the profit margin allowed by regulatory authorities.
In the past ten years, electricity prices for all categories—including residential, commercial, industrial, and transportation—have increased. As we discussed earlier in this series, higher spending by utilities allows them to earn more. As a result, power prices have risen despite the decline in fuel costs.