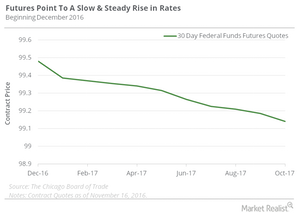 Jeffrey Gundlach on the December Rate Hike: It's Now or Never
By Surbhi Jain

Updated
Gundlach: It's now or never
"If the Fed doesn't raise rates in December, they're never gonna raise rates again," said Jeffrey Gundlach during his interview with CNBC on November 11, 2016. "The bond market is giving them enough room to raise rates with the 10-year up 83 basis points since July 6th," he continued.
The long end (TLT) (IEF) of the yield curve is closely associated with inflation expectations, which are in turn affected by interest rates. Gundlach pointed to the fact that the short end (SHY) of the Treasury yield curve seems to suggest there's an 85% chance the Federal Reserve will raise rates. Consequently, Gundlach said, "The Fed should absolutely raise rates in December."
Article continues below advertisement
Are the markets pricing in a December rate hike?
Our view falls in line with Gundlach's with respect to an interest rate hike. The movements of federal funds futures are a good indicator of how the market (SPY) (IWM) predicts the Fed will act. Investors tend to sell these futures if they think the Fed will hike rates, and they tend to buy them if they believe the Fed will lower rates.
Simply put, these are contracts that are settled at a price determined by where the Fed's interest rate is in the month of expiration, or 100 minus the effective federal funds rate at the time.
The target range for the federal funds rate is currently 0.25%–0.50%. With the 30-day federal funds futures for December 2016 trading at 99.48, implying a 0.52% interest rate, and the May 2017 futures trading at 99.33, implying a 0.68% interest rate, the markets do seem to be pricing in a slow and steady rise in rates beginning in December, implying a December 2016 rate hike.
Fiscal stimulus
Gundlach has a wait-and-watch approach on whether fiscal stimulus will accelerate the pace of rate increases in the United States. In an interview with CNBC on November 11, Gundlach emphasized that fiscal spending by the government would translate to growth and warrant an acceleration in rate hikes only if the money were used constructively, like for building things (walls, bridges, airports) or for bringing more people into the workforce.
Next, we'll discuss Gundlach's views on inflation expectations and the bond market.