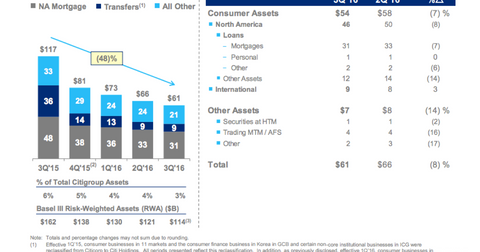 Is Citigroup's Restructuring Helping the Company?
By Rebecca Keats

Nov. 25 2016, Updated 8:05 a.m. ET
Citi Holdings summary
In the third quarter, Citigroup CEO Michael Corbat continued his efforts to slim down the company's operations and clean up its balance sheet. The company continued to dispose of assets of Citi Holdings considered "unwanted." During the quarter, Citi Holdings assets declined 48% from a year ago. At the end of the quarter, they represented 3% of Citigroup's total assets. Citi Holdings was profitable for the ninth consecutive quarter and reported net income of $74 million. This figure represents less than 2% of Citigroup's total earnings for the third quarter. From the fourth quarter, Citigroup will not be reporting Citi Holdings results separately.
This move comes about as banks (XLF) have been struggling to boost their margins in a low interest rate environment. Citigroup is currently trading at a discount to peers J.P. Morgan (JPM), Wells Fargo (WFC), and Goldman Sachs (GS) and is trying hard to boost its earnings.
Article continues below advertisement
Plus, in alignment with the bank's strategy of shifting their resources to a high-return area, the bank announced the sale of its retail banking operations in Argentina and Brazil. It also plans to invest sale proceeds in Mexico, given Citigroup's scale and confidence in growth there. Citigroup is also in the process of integrating Mexico's local brand with Citi. This franchise will be called Citibanamex.