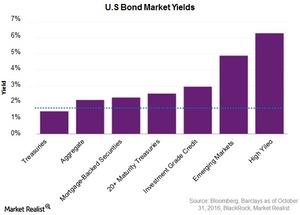 Where Should You Hunt for Yields Now as 2016 Ends?
By Terry Simpson

Nov. 23 2016, Updated 1:05 p.m. ET
As 2016 draws to a close and a Fed hike looms, where should investors hunt for yields now? Terry Simpson highlights the case for three income-yielding asset classes.
Today's low-to-negative interest rate world has sent investors searching far-flung corners of the market for yield, driving flows into a range of once obscure, high-yielding asset classes. Attractive income does exist in a host of areas, but not all income-producing assets are created equally in our view, and risks abound.
One such risk: Rising rates on the horizon. We expect the Federal Reserve (Fed) to initiate its first rate hike in a year this December. The pace of Fed rate increases is likely to be gradual, meaning rates should stay low from a historical perspective for the foreseeable future.
Article continues below advertisement
Market Realist – Demand for higher yields
The demand for higher yields is on the rise, as noted by Savita Subramanian, head of US equity strategy for Bank of America Merrill Lynch (BAC), in her presentation, "The Challenges of Today's Interest Rate Environment." Subramanian noted that with aging demographics, the demand for higher yields has been increasing. Investors are more keen on earning income rather than capital appreciation on their investments.
While the demand for high yields has increased, the options for investors to obtain high yields are decreasing. Interest rates after the global economic crisis have been staggeringly low in economies around the world (ACWI) (VTI). The chart above by BlackRock shows the current yields for various fixed income asset classes on October 31, 2016.
The bond yields shown above are all Bloomberg Barclay's index yields for each asset class. The blue dotted line represents the 1.5% rate of inflation as measured by the Consumer Price Index (or CPI) on October 31, 2016.
Interest rates are expected to be lower. At the Jackson Hole Economic Symposium, Janet Yellen, chair of the US Federal Reserve, expressed optimism about another rate hike. However, the Fed kept its interest rate unchanged in September 2016, with the expectation of a possible hike in December. In light of low-interest rates worldwide, this series will cover dependable options for investors.
Before we move on to the various choices in the fixed-income space that can still offer a higher yield, let's see if investors still can earn on diversification with a traditional stock-bond portfolio.