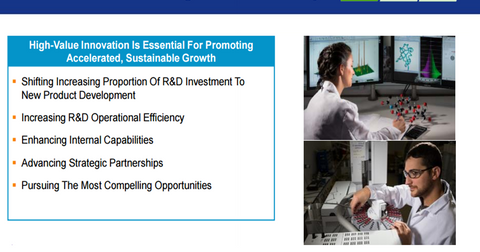 How Baxter Continues to Contribute to Patient Care
By Sarah Collins

Updated
Overview
Baxter International (BAX) has been actively involved in various research and development initiatives to provide better technology products and services to healthcare providers for better patient care.
Baxter also pursues a number of strategic collaborations and partnerships toward the same goal.
The diagram above shows the company's focus on advancing patient care through research and partnerships.
Article continues below advertisement
Baxter International Foundation and Americares launch oral health project
Baxter International is providing funds for the Americares program, which aims to provide oral health education to low-income patients. The program will be executed through 30 partner clinics across the United States.
According to Baxter International, "A lack of dental care disproportionately affects low-income individuals' overall health and socio-economic status; an estimated 164 million work hours are lost each year due to oral disease. In addition, the Mayo Clinic has found oral health may contribute to various diseases and conditions like endocarditis, cardiovascular disease and premature birth."
Study results of a research aimed at the treatment of inflammation-related kidney diseases
According to a press release by Baxter International on November 22, 2016, the company carried out research "on the role of extracorporeal blood purification (or EBP) in the removal of molecules linked to inflammation." 
Chronic inflammation is a critical concern for patients suffering from end-stage renal disease. It can lead to various complications, including cardiovascular disease. ICU (intensive care unit) patients can suffer from organ failure in the event of severe inflammation.
According to Dheerendra Kommala, M.D. and vice president of Baxter's Medical Affairs segment, "Baxter continues to build on its commitment to contribute meaningful research to advance acute and chronic blood therapies. This exploratory research adds to the body of knowledge in an important area that is not fully understood – the treatment of inflammation-related conditions in chronic kidney disease and critically ill ICU patients."
Some of Baxter's major competitors in this area include Medtronic (MDT), Thermo Fisher Scientific (TMO), and Boston Scientific (BSX). The PowerShares Dynamic Pharmaceuticals ETF (PJP) has ~4.4% of its total holdings in BAX.