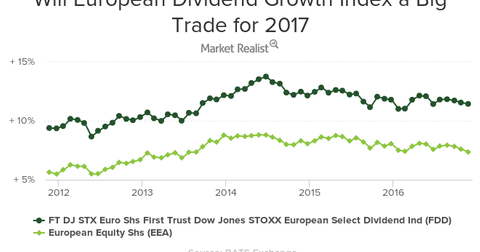 Goldman Sachs Is Long on the European Dividend Growth Index
By Sarah Sands

Updated
European Dividend Growth Index
Goldman Sachs has its eye on the European (EZU) (VGK) (HEDJ) Dividend Growth Index. The investment company included the index in its top trading recommendations for 2017.
[marketrealist-chart id=1770241]
According to Goldman's analysts, "Dividend swaps, as a hybrid between credit and equities, currently appear attractive in a cross-asset context, We forecast a high 'carry' compared with other assets, which reflect both fundamental risks and supply/demand imbalances from structured products issuance."
According to the company, at the end of the first quarter, most—that is, 70%-80%—European (IEV) (FEZ) companies usually declare their payouts. If an investor takes a position in the EURO STOXX 50 Dividend Index, the duration risk will be lower, as the payout will happen in 1Q17.
Article continues below advertisement
The company also explained, "Shorter-dated dividends are less driven by changes in equity valuations and more closely linked to underlying earnings and cash flows. Despite little earnings growth in 2016, EURO STOXX 50 2017 dividends delivered a return of 6 percent with a volatility of 7 percent year-to-date."
You may also be interested in reading Sector Rotation and Inflation Play Big Roles after Trump's Win.