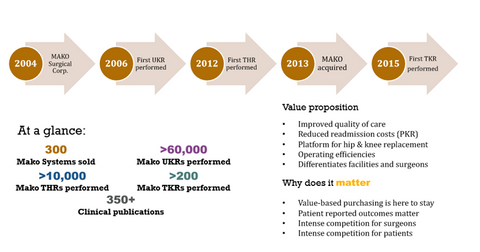 Exploring SYK's MAKO Robot Performance and Future Expectations
By Sarah Collins

Updated
SYK's performance in the robot-assisted surgery market
Stryker (SYK) has identified its need to differentiate its offerings in the competitive orthopedics market, which has undergone business model changes along with the rest of the healthcare industry.
In December 2013, Stryker acquired MAKO Surgical and entered the robot-assisted surgery market. The company has witnessed a substantial uptake in its MAKO robots since then. In 3Q16, 30 MAKO units were placed, compared to 17 units in 2Q16. This rise represents growth of ~75% YoY (year-over-year).
Of these 30 units, 23 were placed in the United States. The rise in sales in the quarter was triggered by the expanded indication of MAKO for use in total knee applications. The company began a limited launch of its triathlon total knee implants in June 2016.
Article continues below advertisement
Some other US medical device players that have entered the robotics surgery market include Medtronic (MDT), Johnson & Johnson (JNJ), and Intuitive Surgical (ISRG). Investors can consider investing in the iShares Edge MSCI Minimum Volatility USA ETF (USMV) for exposure to Stryker, which accounts for ~1.2% of USM's total holdings. 
Total knee application
Stryker received FDA approval for the triathlon total knee system in August 2015. The company started a limited launch in June 2016, and it's expected to release a full launch in 2017. The company expects the use of MAKO robots for total knee replacement surgery to have more consistent and efficient outcomes and substantially less soft tissue disruption.
During the limited market release of the triathlon total knee system, around 200 procedures were performed, and the results were found to be satisfactory. Stryker expects the system's full commercial launch to be highly successful. It expects to gain a considerable market share from its successful launch of the system.