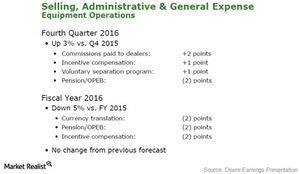 How Deere Expects to Achieve $500 Million Restructuring Benefit
By Shannon Black

Updated
Update on the $500 million structural cost reduction
In its 3Q16 earnings call, Deere (DE) talked about its plan to increase pre-tax profits by $500.0 million by 2018 through structural cost reductions. The full benefit of these cost reductions is expected to be realized in 2019 and beyond.
Since the beginning of these initiatives in March 2016, Deere said it has realized $90.0 million in cost savings in 2016. In 2017, the company has forecast that these initiatives will yield additional cost savings of ~$190.0 million.
Article continues below advertisement
There are three areas that Deere has targeted to achieve these benefits. Roughly one-third of the benefits are expected to be derived from direct and material cost reductions. These measures are concerned with the company leveraging its existing supplier relationships as well as resourcing and designing costs out of its products.
The second area of improvement that's expected to generate one-fifth of the total cost savings is related to personnel costs. These are the voluntary employee separation programs that the company announced in order to reduce costs.
The remainder of the benefits are expected to be derived from other miscellaneous items such as lower research and development spending and lower depreciation from lower capital expenditures.
Total costs incurred by Deere to achieve these benefits
The total costs associated with Deere's $90.0 million in savings in fiscal 2016 were $11.0 million. In 2017, Deere forecast that these costs are expected to be around $105.0 million.
The company also stated that the costs associated with material cost reductions are quite low. Personnel costs related to separation are responsible for a large portion of the costs associated with the restructuring exercise.