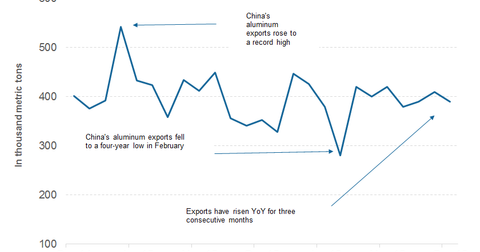 Why China's Loss Wouldn't Mean Alcoa's Gain
By Mohit Oberoi, CFA

Nov. 20 2020, Updated 2:20 p.m. ET
Trump versus Clinton
Donald Trump appears to favor a more aggressive trade policy—regularly citing job losses as a result of imports from other countries, especially China (FXI). Notably, US steel and aluminum companies have been complaining that Chinese exports distort global markets and put pressure on metal prices. While steel companies managed to fend off Chinese steel exports from the US borders with the help of trade duties, the aluminum industry doesn't have that privilege.
Article continues below advertisement
Tough trade laws
To be sure, Trump's tough stance on imports from China would likely be negative for the Chinese economy. Exports are a pillar of the Chinese economy. Exports pulled millions out of poverty in that region. Meanwhile, China's growing middle class has been a key driver of global aluminum demand.
If Trump becomes the next US president and decides to get tough on Chinese imports, we would see a direct impact on the Chinese economy. China's aluminum demand would likely be negatively impacted. Lower domestic demand could prompt Chinese producers (ACH) to export more of their produce to international markets. It could put pressure on aluminum prices.
International pricing
Unlike steel, where prices are more regional in nature, aluminum prices are market determined with LME (London Metals Exchange) prices being the global benchmark. If aluminum prices come under pressure, producers including Alcoa (AA), Century Aluminum (CENX), and Norsk Hydro (NHYDY) would be impacted negatively. We could see some strengthening of US aluminum premiums if the country acts tough against aluminum imports.
To sum it up, China's loss might not necessarily mean Alcoa's gain. Read Would China Be an Opportunity or a Threat for Alcoa Corporation? to explore this more.
You can also visit Market Realist's Aluminum page for ongoing updates on this industry.