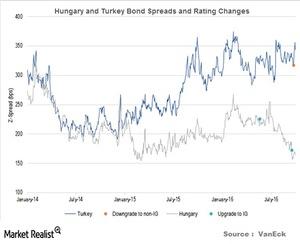 Does Change in Investment Ratings Impact Bond Value?
By VanEck

Nov. 28 2016, Updated 9:33 a.m. ET
Forced Selling and Buying May Impact Bond Values
Changes in investment grade status can significantly impact a bond's market price. There are many investors who track quality based indices only, or can only invest in investment grade bonds. When a bond is either downgraded from or upgraded to investment grade, these investors may be forced to buy or sell bonds based on shifting ratings. The market, however, is not driven entirely by credit ratings, and market prices often anticipate credit rating changes.
Article continues below advertisement
In the chart below, Hungary and Turkey credit spreads (as measured by Z-spread[1. Z-spread is the spread over the zero-coupon Treasury yield curve required for discounting a bond's cash flows to arrive at its present market price.] levels of country sub-indices of the J.P. Morgan EMBI Global Index[2. J.P. Morgan EMBI Global Index is comprised of USD-denominated emerging markets sovereign bonds. The index is weighted by market value.]) are shown along with credit rating changes to or from investment grade status by individual rating agencies.
Market Realist – Lira hit record lows after credit downgrade
The Turkish lira plunged to record lows against the dollar following its downgrade by Moody's and S&P, who cited increased political instability as well as geopolitical stresses and turbulence. As of July 20, 2016, S&P downgraded Turkey from a "BBB-" rating (investment grade) to a "BB+" rating (non-investment grade), causing a prompt sell-off in Turkish bonds as well as a sudden surge in its ten-year bond yield. This situation was further worsened after Moody's cut Turkey's rating to junk grade, which contributed to the sell-off.
On the currency side, it has been a roller coaster ride for the Turkish lira in 2016. The lira has been one of the worst-performing emerging market currencies (EMLC) this year. As of November 8, 2016, the Turkish lira has slumped ~10% in the last one year.
Market Realist – Hungary outperformed its regional peers
Hungary, after a series of downgrades in the past five years, regained investment-grade (FLTR) status following upgrades by all three rating agencies. These ratings, as well as improving fundamentals, were already fueling the BUX index, which started soaring in the first week of March and has returned ~26% on a year-to-date (or YTD) basis. Both the bond and stock market cheered these upgrades, allowing funds that can only buy investment-grade assets to start piling into the country.