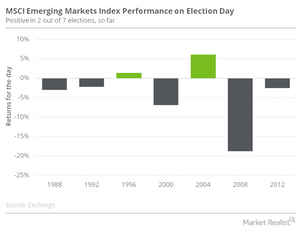 Can a Trump Win Reverse Emerging Market Gains on Election Day?
By Surbhi Jain

Dec. 4 2020, Updated 10:52 a.m. ET
Can a Trump win trigger an emerging market reversal?
In September, Citigroup (C) predicted that the MSCI Emerging Market Index would fall 10% if Republican Donald Trump prevailed over Democrat Hillary Clinton in the US presidential election. The NYSE Arca-traded iShares MSCI Emerging Markets ETF (EEM) tracks this index.
The MSCI Emerging Markets Index has delivered positive Election Day returns only twice out of the seven presidential elections that have been held since the index was created. The index showed a 1.4% return in 1996, when incumbent Democrat Bill Clinton beat Republican Bob Dole handily. Clinton garnered 379 electoral votes and Dole won 159 electoral votes—270 are needed to win.
The index showed a 6.1% return in 2004. That year, incumbent Republican George W. Bush won with 286 electoral votes to Democrat John Kerry's 251 electoral votes.
Regardless of who wins the 2016 presidential elections, the index's pattern raises the possibility of emerging markets (VWO) seeing a down day after Election Day.
Article continues below advertisement
Impact on currency and trade
A Trump win could lead to emerging market currencies weakening against the dollar, as trade relationships between the US and emerging markets could change. Mexico and China demand particular attention in this scenario.
According to Gary Greenberg, head of emerging markets at Hermes Investment Management, "China and Mexico enjoy large trade surpluses with the US, representing just over 1.5% and 0.6% of US GDP respectively. If elected, Trump could restrict imports, as threatened, primarily targeting these two countries."
There has been considerable debate between the two presidential candidates over trade deals such as NAFTA[1. North American Free Trade Agreement] and the TPP.[2. Trans-Pacific Partnership] Trump wishes to renegotiate NAFTA and break the TPP. Since 1994, NAFTA has created a common trading market among the United States (SPY) (IWM) (QQQ), Mexico (EWW), and Canada (EWC). However, Trump believes that the common market has also led to US jobs going to Mexico.
The market believes that Trump has a protectionist approach. He states that his intentions are to bring jobs back to the US. Trump's platform includes his intention to restrict trade and financial flows between the US and Mexico.
In the next article, let's see how a Trump victory could impact Mexico's economy.