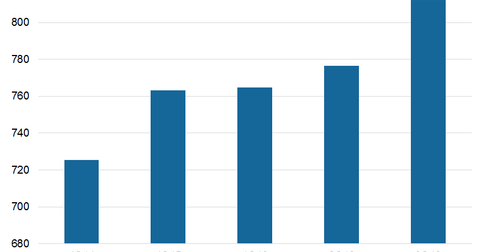 Broad Market Appreciation Helped T. Rowe's Assets in 3Q16
By Robert Karr

Updated
Market led to an AUM rise
T. Rowe Price (TROW) posted growth of $36.3 billion in its AUM (assets under management) in 3Q16, totaling $812.9 billion. The company manages a range of US and global stocks, blended assets, bonds, and money market mutual funds. Its portfolios and offerings carry a specific mandate of investing in an asset class or combination of asset classes for one or more regions.
As of September 30, 2016, T. Rowe managed $517.0 billion in sponsored US mutual funds and $295.9 billion in other investment portfolios.
T. Rowe Price posted net income of $1.2 billion in the last fiscal year. Let's compare this to the net incomes of its peers:
State Street (STT) – $987 million
BlackRock (BLK) – $1.4 billion
Bank of New York Mellon (BK) – $1.7 billion
Together, these companies form 8.5% of the Vanguard Financials ETF (VFH).
Segmental revenues
T. Rowe derives its revenue mainly from the assets it has under management. During 3Q16, the market appreciation–led AUM was $36.5 billion. It was partially offset by client withdrawals of $0.2 billion. Passive asset managers saw strong inflows in 3Q16 towards ETFs as well as mutual funds. T. Rowe's assets base stabilized over the past few quarters. The company has to innovate its offerings in a bid to attract more assets.
T. Rowe's investment advisory fees for mutual funds distributed in the US and other investment portfolios rose by $58 million, or 5%, in 3Q16 to $970.5 million—compared to 3Q15. It was on the back of rising broad markets, which helped in the augmentation of total AUM. The company's administrative fee revenue fell by $2.6 million to $85.7 million due to a transfer of operations to BNY Mellon.
Article continues below advertisement