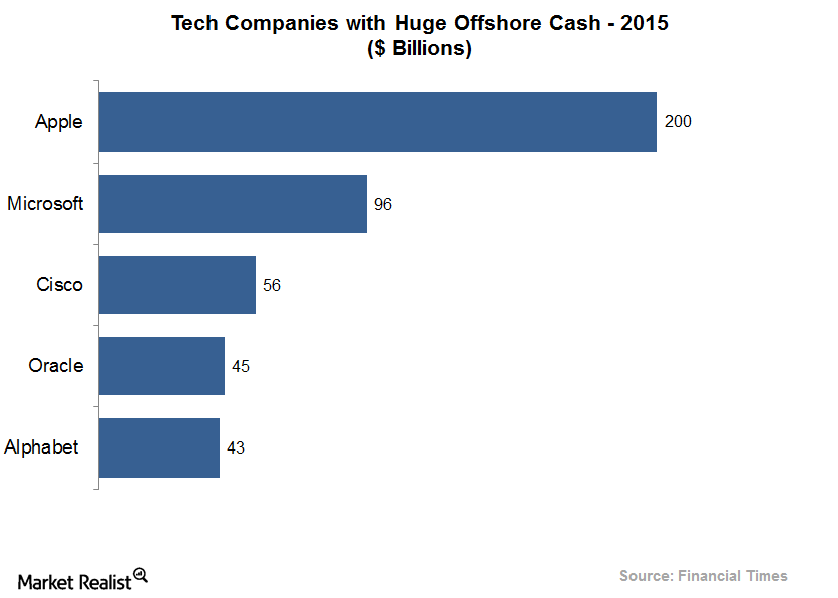 Bright Spots for Cisco under a Trump Presidency
By Ruchi Gupta

Nov. 20 2020, Updated 4:44 p.m. ET
Business-oriented president
Cisco's (CSCO) CEO, Chuck Robbins, discussed on the company's fiscal 1Q17 earnings call what he thought about doing business under a Donald Trump presidency. Robbins said that he sees President-elect Trump as "business-oriented" and "focused on driving the U.S. economy." In other words, Cisco sees prospects of prosperity under the Trump administration. What are the bright spots for Cisco?
Under a Trump presidency, Cisco could have the opportunity to bring home its overseas cash at a lower tax rate. Trump has proposed a special tax holiday that would allow US multinationals to repatriate their offshore cash at a 10% tax rate instead of the nearly 40% they pay today. Cisco has about $71 billion in cash, with 90% of it held in overseas accounts.
Robbins said that Cisco would use its repatriated cash to increase its stock repurchase program, its dividends, and its strategic acquisitions in order to drive growth in promising markets such as the wireless and security spaces.
Apple (AAPL) and Microsoft (MSFT) are some other US technology companies with billions of dollars stashed in offshore accounts.
Article continues below advertisement
Expanded infrastructure spending
Trump has shown an inclination to increase government spending on infrastructure projects. Cisco's bet is that increased government spending will boost demand for its networking gears and security solutions, especially as government agencies modernize their systems.
Unlocking new growth opportunities
In recent years, Cisco has stepped up its spending to build its wireless and security units amid weakness in its legacy switches and router operations. Besides a slowdown in spending on traditional switches, Cisco also faces competitive pressures from Juniper Networks (JNPR) and Huawei.
Cisco said its security business generated $540 million in revenue in fiscal 1Q17, a rise of 11% year-over-year (or YoY). Revenue from its switching business has fallen 7% YoY.
Even in the promising security business, however, Cisco will have to contend with competition from the likes of Proofpoint (PFPT) and Symantec (SYMC).