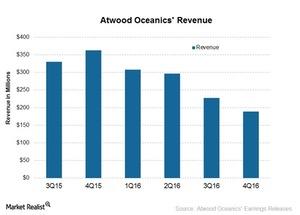 Atwood Oceanics: A Deep Fall in Revenue Awaits in Next Quarter
By Sue Goodridge

Nov. 23 2016, Updated 9:32 p.m. ET
Series focus
In this series, we'll look at how Atwood Oceanics (ATW) performed in fiscal 4Q16, its costs guidance for the coming quarter, and its financial health. We'll also see how analysts changed their ratings and recommendations after the results were released.
Article continues below advertisement
3Q16 revenue
Atwood Oceanics earns revenue by operating floating rigs and jack-up rigs. Its fiscal 4Q16 revenue was $189 million, a fall of almost 17% from the $228 million reported in 3Q16.
What impacted revenue?
Atwood Oceanics' revenue declined primarily due to its rig, the Atwood Advantage, which operated for 65 days at a reduced rate of $240,000 per day. It also incurred 13 days at a zero rate for mobilization from the Gulf of Mexico to Israel. Additionally, revenue declined as the Atwood Beacon was idled in August.
Article continues below advertisement
Fiscal 2016
Atwood Oceanics' revenue for fiscal 2016 fell $375 million, or 27%, to $1 billion. 69% of its total revenue, or $708 million, was earned by the ultra-deepwater segment. The biggest drop in revenue came from the deepwater segment. Its 2016, deepwater revenue fell $205 million to $131 million.
Factors impacting 1Q17 revenue
Atwood Oceanics' contracts on two jack-ups, the Atwood Orca and the Atwood Beacon, ended in October 2016. One more contract, for the Atwood Aurora, rolled off in September 2016. All these rigs are currently idle and the company is marketing these rigs for further contracts. There is a very low possibility of these rigs getting re-contracted immediately, considering the current industry scenario. As three contracts have rolled off, we expect a steep fall in revenue in fiscal 1Q17.
Peers' revenue
Revenue for other offshore drillers (OIH) was as follows: