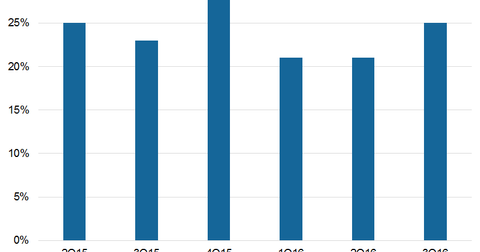 Ares Capital Expands SDLP Portfolio, but SSLP Still Dominates
By Robert Karr

Updated
Senior direct lending program
After ending the senior secured loan program with GE Capital, Ares Capital (ARCC) is successfully building up a new senior direct lending program (or SDLP). Under this program, the company will make senior secured loans to middle-market companies. Ares Capital aims to build strong relationships with other financial sponsors and companies.
Ares and Varagon, under SDLP, will underwrite and hold first lien loans, including stretch senior and unitranche loans. Of the new investments in 3Q16, 15% were in investments in SDLP certificates.
Increasing exposure
In 3Q16, Ares Capital made commitments to 12 new companies, out of which ten were directed towards SDLP programs jointly managed with Varagon. Ares Capital also transferred $528.9 million of its existing investment commitments to SDLP. The company still has 22% of its total portfolio invested in the senior secured loan program (or SSLP). This percentage has been falling.
As of September 30, 2016, the funded SDLP portfolio totaled $929 million. It was comprised of ten first lien senior secured loans to various companies. Overall, the program has an investment cap of $2.9 billion with an investment of up to $300 million in one company.
Ares Capital's peers in the investment management space posted the following EPS (earnings per share) increases:
Together, these companies form 0.04% of the SPDR S&P 500 ETF (SPY).
Major challenges
Ares and Varagon Capital have modeled their SDLP joint venture after SSLP. The company expects investments in SDLP to yield returns in line with the SSLP program. The major challenge, however, is the switch from the old joint venture with GE Capital, which could result in lower yield generation in a bid to shift such a vast portfolio. In the short term, the shift could negatively impact earnings. However, Ares Capital has demonstrated good earnings power in spite of the ACAS acquisition and portfolio shift towards SDLP.
Article continues below advertisement