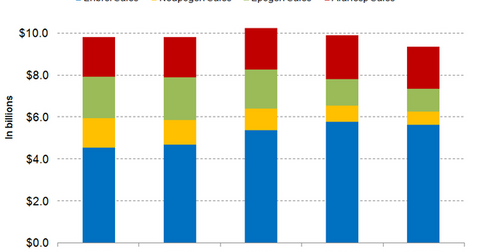 Amgen Expects Competitive Pressures for Its Mature Brands in 2016
By Margaret Patrick

Updated
Mature brands
Following the launch of Novartis's (NVS) biosimilar Zarxio through its subsidiary Sandoz in September 2015, Amgen's (AMGN) Neupogen, a short-acting filgrastim, has witnessed a gradual fall in its revenue. Neupogen has also faced the cannibalization of its revenue from Amgen's longer-acting form of filgrastim, Pegfilgrastim, or Neulasta. Competition from peers AbbVie (ABBV), Pfizer (PFE), and Celgene (CELG) is also expected to affect Enbrel's overall performance in 2016.
Aranesp, an erythropoietin stimulating agent (or ESA), however, continues to report healthy revenue due to increased demand in dialysis centers in the United States. To know more about the historical performance of Amgen's ESA portfolio, read Amgen's Nephrology Drugs Expect Falling Revenue in 4Q15.
Article continues below advertisement
Revenue projections
Wall Street analysts have projected that in 2016, Neupogen's revenue will fall ~26.7%year-over-year (or YoY), reaching $768.5 million. Epogen's revenue is also expected to fall ~31.9% YoY, reaching ~$1.3 billion in 2016.
Enbrel is expected to earn about $5.8 billion in 2016, a modest rise of ~7.7% YoY. To know more about projections for Enbrel in 2016, read Competition Might Impact Enbrel's Growth Prospects in 2016.
Wall Street analysts have estimated that Aranesp's 2016 sales will be about $2.1 billion, a YoY rise of ~6.9%. Amgen has succeeded in shifting around 80% of its independent dialysis center customers from Epogen to Aranesp. However, the company doesn't expect any additional transitions, so it expects Aranesp's revenue to stabilize in the coming quarters.
If Amgen manages to surpass revenue expectations for its mature brands, it could have a positive impact on the share price of the company as well as the price of the PowerShares QQQ Trust, Series 1 ETF (QQQ). Amgen makes up ~2.1% of QQQ's total portfolio holdings.
In the next article, we'll explore why Amgen's oncology drug, Kyprolis, is expected to become a key growth driver for Amgen in 2016.