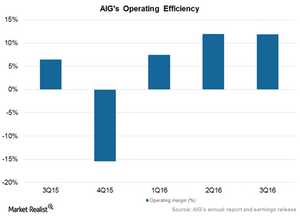 AIG's Expense Reduction, Divestitures, and Strategic Actions in 3Q16
By Robert Karr

Updated
Restructuring spending for margins improvement
American International Group (AIG) spent $210 million toward restructuring initiatives in 3Q16 that target inefficiencies and expenses. The spending forms part of the $500 million restructuring announced after the company's weak operating performance in 2015.
The insurance giant has successfully reduced general operating expenses in 9M16 by 12% on a nominal basis and 10%, excluding its dollar impact and the sale of the Advisor group. This has helped to improve its return on equity and operating margins.
AIG expects annual savings of $400 million–$500 million through its restructuring initiatives, consisting mainly of employee severance and improvement of technology platforms.
Article continues below advertisement
Strategic transactions
AIG manages its legacy portfolio, which enables the company to garner higher capital returns. The company realized a total of $900 million in 3Q16 toward legacy assets and $5.2 billion over the past four quarters, in line with its strategy of liquidating non-core assets and focusing on core operations.
AIG entered into a reinsurance agreement for the subsidiary's Whole Life and Universal Life businesses, resulting in $1 billion of excess distribution to AIG. The company also announced the sale of its 100% stake in United Guaranty Corporation and its 20% stake in Ascot Underwriting Holdings Ltd. in a bid to consolidate its Global Insurance operations.
In August 2016, AIG monetized its 95.3% stake in NSM Insurance Group. The company also signed an agreement with Fairfax Financial Holdings Limited for selling certain Latin American operations, Turkey operations, and the renewal rights for the portfolio in Eastern Europe.
AIG expanded its book value by ~13% during the past year. In comparison, its insurance peers (XLF) saw book value growth of 5% for MetLife (MET) and Allstate (ALL), and 8% for Chubb (CB) in the same period.