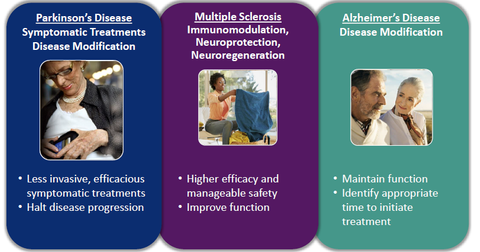 AbbVie Is Focused on Growth Opportunities in Neuroscience Space
By Margaret Patrick

Updated
Neuroscience opportunities
To diversify its product portfolio, AbbVie (ABBV) has been focusing on patients suffering with neurodegenerative disorders such as multiple sclerosis, Parkinson's disease, and Alzheimer's disease. There's significant unmet demands in these areas due to limited treatment options.
If AbbVie expands in the underserved neuroscience space, it may have a positive impact on the company's share prices as well as those of the Vanguard Growth ETF (VUG). AbbVie makes up about 1.1% of VUG's total portfolio holdings.
Article continues below advertisement
Parkinson's disease
On January 12, 2015, the FDA (U.S. Food and Drug Administration) approved Duopa as a therapy for motor fluctuations for patients suffering with advanced Parkinson's disease. According to an AbbVie press release, "DUOPA is administered using a small, portable infusion pump that delivers carbidopa and levodopa directly into the small intestine for 16 continuous hours via a procedurally-placed tube."
Duopa is used to treat the symptoms of Parkinson's disease, but AbbVie is also actively exploring a variety of other treatment options that could slow down or halt the progression of the disease. The company also aims to develop less invasive yet effective therapies for the disease.
Multiple sclerosis
Zinbryta was launched in the United States in August 2016. It's expected to help AbbVie pose strong competition to other multiple sclerosis (or MS) players such as GlaxoSmithKline (GSK), Merck & Co. (MRK), and Roche Holdings (RHHBY). To know more about Zinbryta, please refer to AbbVie Launched Zinbryta in the US in August.
AbbVie is also involved in developing MS drugs with better efficacy and safety profiles. It's planning to develop therapies that can help repair the damage caused by MS, thus resulting in a permanent cure for MS patients.
Alzheimer's disease
With no FDA-approved cure for Alzheimer's disease on the market, there's a significant unmet demand in this area. AbbVie plans to develop a therapy that will either slow down or halt disease progression in patients with Alzheimer's disease.
In the next part, we'll explore prospects of AbbVie's investigational MS therapy, ABT-555.