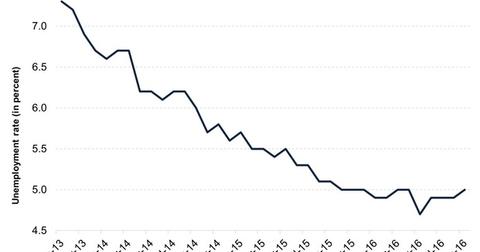 Why 370 Economists Are Displeased with Donald Trump
By David Ashworth

Updated
Economists are aghast by economic thinking
A statement signed by 370 economists on Donald Trump's proposed economic policies said that he is "a dangerous, destructive choice for the country." The statement goes on to say, "He misinforms the electorate, degrades trust in public institutions with conspiracy theories, and promotes willful delusion over engagement with reality."
The statement further read, "If elected, he poses a unique danger to the functioning of democratic and economic institutions, and to the prosperity of the country. For these reasons, we strongly recommend that you do not vote for Donald Trump."
The statement was released on November 1, 2016, and was published by the Wall Street Journal.
Article continues below advertisement
Degrading trust in public institutions
In a speech on August 8, Republican nominee Donald Trump discredited the monthly unemployment rate figures published by the Bureau of Labor Statistics, calling them a "hoax." In his campaign speeches, he has maintained that the actual rate of unemployment is somewhere between 18%–42%. These claims are without any substantiation and were in part the reason why the aforementioned 370 economists disapprove of Donald Trump as the right candidate for the US presidency.
Job additions, represented by non-farm payrolls, have stabilized after the shocker in May. The mining sector has been dragging on job additions for quite some time and has hurt stocks the likes of Alcoa (AA), Nucor (NUE), and Steel Dynamics (STLD).
Donald Trump has accused Hillary Clinton of trying to shut down mines and energy production. But without providing a plan, his arguments just seem to be an emotional appeal to people who have been impacted by the slowdown in the energy (XLE) and mining sectors (XME) to vote for him.
These 370 economists have also taken exception to Trump's thoughts about manufacturing. Let's look at them in the next article.