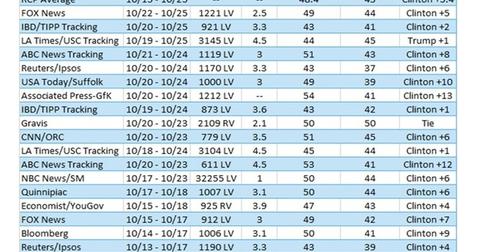 Will the Presidential Election Shrink Financial Institutions?
By Penny Morgan

Updated
With less than a month before the U.S. election, it's time to get ready. With the race too close to call, traders are preparing to protect against market uncertainty. No matter which party ends up in the White House in November, traders will have a way to find opportunity.
FINANCIALS
If Hillary and the Democrats win, financial stocks may be affected. The Democrats' platform endorses an "updated and modernized version" of Glass-Steagall and breaking up too-big-to-fail banks that pose a risk to the American economy. Former Secretary Clinton has said she wouldn't hesitate to use existing laws to force financial institutions to shrink—if regulators deemed that step necessary.
To quote Mrs. Clinton:
"As president, I would not only veto any legislation that would weaken financial reform, but I would also fight for tough new rules, stronger enforcement and more accountability that go well beyond Dodd-Frank." —Dec. 7, 2015, op-ed in New York Times
Article continues below advertisement
Market Realist – Glass-Steagall Act could have adverse effects
The 2016 US presidential election is scheduled for November 8, 2016. This election will mark the 58th quadrennial US presidential election. The election will determine the 45th president and the 48th vice president of the United States.
The Glass–Steagall Act of 1933 prohibits commercial banks from engaging in the investment business. Under the act, only 10% of commercial banks' (XLF) total financial incomes can stem from securities, but an exception allows commercial banks to underwrite government-issued bonds (BND) (HYG).
The act further separates financial (KRE) activities by creating a wall between insurance and banking. Although aimed at preventing a loss of deposits in the event of investment failures, this separation could have adverse effects.
In addition, the Democrats' platform may tax certain types of high-frequency, automated stock trading by computers, which have been profitable but can amplify volatility (VIXY) (XIV). These rules could curb Wall Street's (SPY) (VOO) pay.
In the next part of the series, we'll discuss the implications of the Dodd–Frank Act.