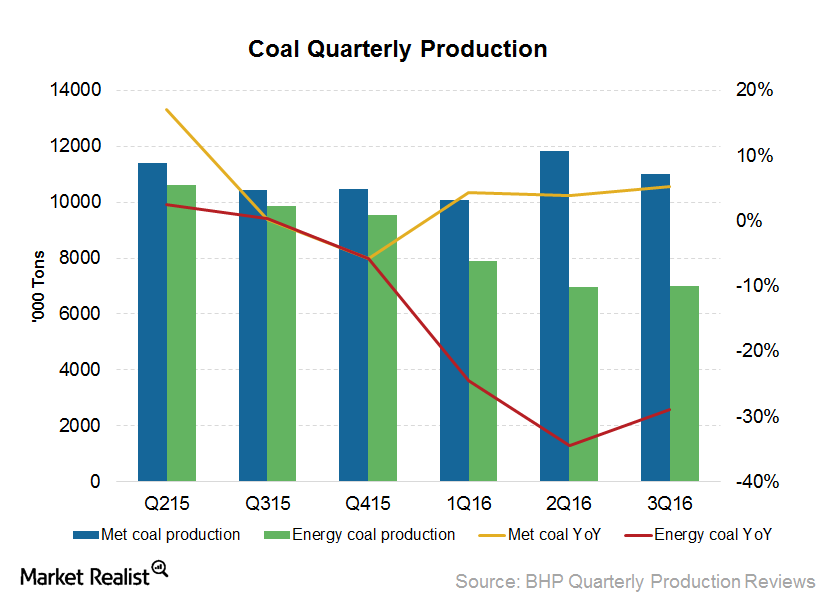 What Will Drive BHP Billiton's Coal Production Going Forward?
By Anuradha Garg

Oct. 24 2016, Updated 3:05 p.m. ET
Coal business
BHP Billiton's (BHP) (BBL) Coal segment is the world's largest supplier of seaborne metallurgical coal. Along with iron ore and manganese, metallurgical coal is a key input in steel production.
A sustained rise or fall in coal shipments is a significant indicator that affects the stock value of coal producers (KOL) such as BHP Billiton, Peabody Energy (BTU), Alliance Resource Partners (ARLP), Arch Coal (ACI), and Cloud Peak Energy (CLD). BHP makes up 5.5% of the iShares Commodities Select Strategy (COMT).
Article continues below advertisement
Coal volumes
BHP Billiton's metallurgical coal production rose 1.0% to 11.0 million tons. Here are a few contributing factors:
flat production at Queensland coal since increased wash-plant and truck utilization was offset by the completion of longwall mining at Crinum mines and adverse weather conditions
planned longwall move and wash-plant utilization at Saraji that dragged down output
a fall of 4.0% to 7.0 million tons in energy coal production for fiscal 1Q17
a 16.0% rise in volumes at Cerrejon, offset by a 15.0% fall in volumes at New South Wales, which was impacted by heavy rainfall and rescheduling of the mine plan
Coal production guidance
The company's guidance going forward includes the following:
BHP expects Queensland Coal production to remain at 44.0 million tons in fiscal 2017. This guidance is higher than fiscal 2016, mainly since higher wash-plant and truck hours are expected to more than offset the closure of Crinum.
The company maintained its energy coal production at 30.0 million tons for fiscal 2017. Production in fiscal 2016 was 34.0 million tons. The fall was mainly due to the divestment of its New Mexico coal assets, which will be offset to an extent through productivity improvements for New South Wales energy coal.
Next, let's see how BHP Billiton's copper production has fared and what the outlook is for fiscal 2017.