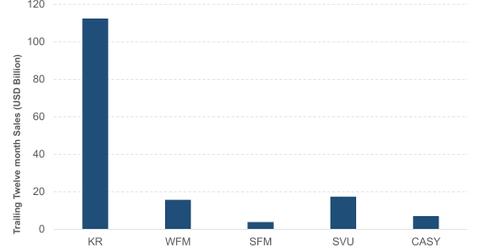 What's Going on in the US Food Retail Sector This Year?
By Sonya Bells

Updated
US food retail industry
The US food retail sector (XRT) includes store formats that range from small grocery shops and convenience stores to large supermarkets and club stores. The supermarket format represents the largest segment of the US food retail industry. Kroger (KR) is the largest supermarket in the US with a market share of 15.4%.
Article continues below advertisement
Deflation woes and the US food retail sector
As we discussed earlier in the series, the current year has been difficult for food retail stocks due to rising deflation and increasing competition. According to the data released by the U.S. Department of Agriculture, food prices fell for nine consecutive months this year. In fact, deflation has been getting worse every month. Food retail players had to increase promotions to drive traffic. It had a negative impact on food retailers' top lines and margins. As a result, they have been continuously penalized in the stock market.
Year-to-date performances
Of the major food retail players, Kroger (KR) has been the worst performer. Currently, it's sitting at YTD losses of 29% as of September 30. The company's stock closed at $29.68 on September 30. It's operating close to its 52-week low price of $29.48.
Supervalu's (SVU) performance has been equally bad. The company was sitting on YTD losses of around 33% until September 28. However, after news came out on September 29 about the Save-A-Lot bid, the company's YTD losses fell to 26.4% at the end of September. Supervalu trades 57% below its 52-week high price.
Ongoing deflation in food prices continues to have a negative impact on Whole Foods Market (WFM) and Sprouts Farmers Market (SFM). Currently, the stocks of these two companies are trading 25% and 45% below their 52-week highs.
In the next part, we'll discuss an overview of the food retail sector's valuations and recommendations.