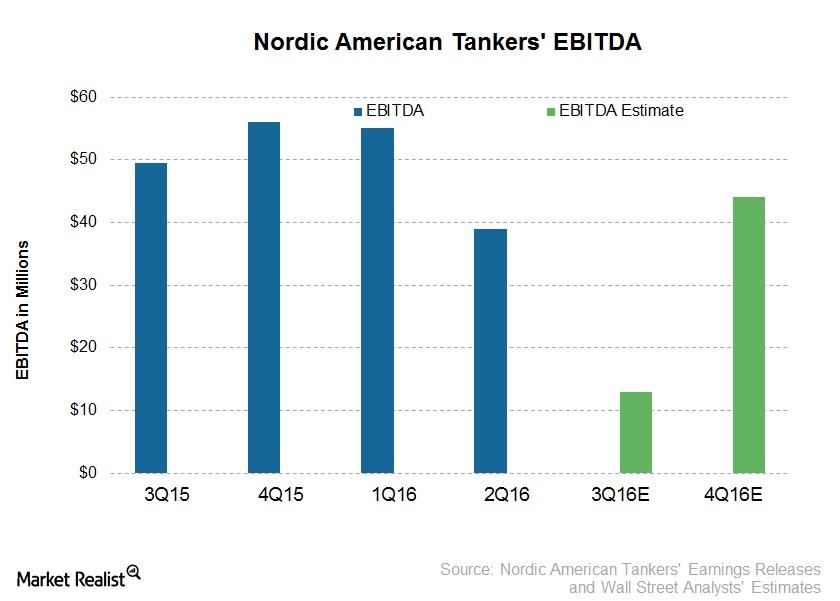 What to Expect from NAT's Earnings in 3Q16?
By Sue Goodridge

Nov. 1 2016, Updated 8:06 a.m. ET
Earnings estimates
Along with the fall in its revenue, analysts expect a fall in Nordic American Tankers' EBITDA (earnings before interest, tax, depreciation, and amortization) for 3Q16. Analysts' estimate for NAT's EBITDA in 3Q16 is $13 million, a 66% fall from the $39 million reported in 2Q16 and a 73% fall from the $49 million reported in 3Q15.
For 4Q16, the company's estimated EBITDA stands at $44 million. Analysts' estimates for NAT's EBITDA in 2016 and 2017 are ~$162 million and $128 million, respectively, much lower than its EBITDA of ~$210 million in 2015.
Article continues below advertisement
Based on its 1H16 EBITDA and revenue, Nordic American Tankers' EBITDA margin is 68%. Nordic American Tankers has one of the largest margins among its peer group, which includes Teekay Tankers (TNK), Tsakos Energy Navigation (TNP), Frontline (FRO), and DHT Holdings (DHT). Nordic American Tankers has a low breakeven rate, below $11,000 per day per ship.
Earnings per share
Wall Street analysts forecast a heavy fall in NAT's EPS (earnings per share). They estimate EPC to fall more than 100%, to -$0.16 per share in 3Q16, compared with $0.15 per share in 4Q15.
The fall is expected to continue in coming years. In fiscal 2016, EPS are expected to fall 72% to $0.356, from EPS of $1.29 in 2015. In 2017, analysts expect EPS of $0.016 for Nordic American Tankers.