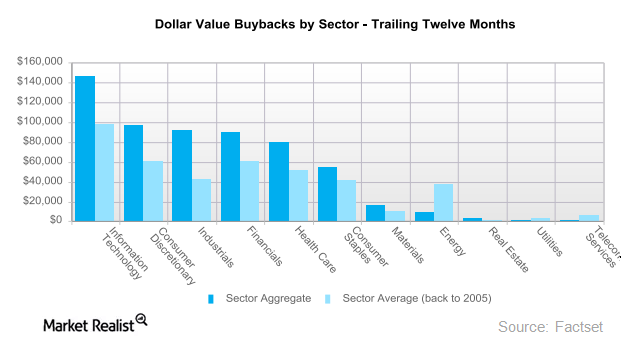 Tech Sector's Buybacks Fell despite Microsoft's $40 Billion Plan
By Anne Shields

Nov. 20 2020, Updated 12:22 p.m. ET
Despite a fall in share buybacks, tech sector continued to be top spender in share buybacks
So far in this series, we've looked at Microsoft's (MSFT) continuing push in the cloud space as well as its expectations for fiscal 1Q17.
As you can see in the graph below by Factset, the IT (information technology) sector is still the biggest spending sector on share buybacks in 2Q16, the way it was in 1Q16. However, spending on share buybacks by companies in the tech (technology) sector fell 15.4% on a YoY (year-over-year) basis to $30.3 billion.
Among the top five companies that spent the maximum on share buybacks in 2Q16, two belonged to the tech sector. Apple (AAPL) spent the most, followed by GE (GE). After Apple and GE, Microsoft held the third position in the top-five list.
Article continues below advertisement
Factors that facilitate tech sector spending on share buybacks
In 2Q16, companies in the S&P 500 (VOO) spent $125.1 billion on share buybacks, which made it the smallest quarterly total since 3Q13. In the IT space, Apple and Microsoft spent ~$10.9 and $3.6 billion, respectively.
It's not much of a surprise that Apple was the biggest spender on buybacks. After all, Apple has ~$233 billion in cash. But the issue is that a large majority of this cash is held overseas. Most tech companies, including Microsoft, usually keep their cash outside the United States to avoid paying high taxes.
The technology sector was the only sector in the S&P 500 that had more cash than debt per share in 2015. Since most of this cash is outside the United States, these companies resort to bond issuance to borrow for dividends and buybacks. The companies prefer share buybacks since they reduce the number of shares outstanding and increase EPS (earnings per share).
This explains why Apple, which has significant cash reserves, raised $1.0 billion in Australian bonds (EWA) in June 2016. For the same reason, despite having significant cash reserves, Microsoft resorted to debt to fund its latest and largest-ever acquisition of LinkedIn (LNKD).
In late September 2016, Microsoft announced a new stock buyback program of ~$40 billion.
In fiscal 2016, Oracle (ORCL) returned close to $13 billion in cash to its shareholders through $10.4 billion in share repurchases and $2.5 billion in dividends.