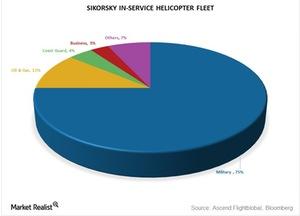 Helicopter Woes Could Have Hit Lockheed Martin's Sikorsky Unit in 3Q16
By Shannon Black

Updated
Backlog deferral risk lower for Sikorsky
The current troubles in the helicopter manufacturing industry are just one more example of how the downturn in the oil industry (XOP) continues to have a domino effect across other sectors. Helicopters are used in the oil industry to ferry workers and cargo to oil platforms, which are often in the middle of nowhere. Approximately 25% of the global helicopter fleet are deployed in the oil and gas sector.
Article continues below advertisement
Based on research by Wood Mackenzie, more than $1 trillion worth of investment cuts have been planned worldwide for the rest of this decade, and so fleets of helicopters are being idled. Sikorsky (LMT) has the largest backlog among its competitors. However, since 75% of its orders are from military customers and only 7% are from the oil industry, it is relatively immune from order deferrals compared to some of its competitors.
Among competitors, 31% and 14% of Leonardo Helicopters' and Airbus Helicopters' (EADSY) order backlogs, respectively, are exposed to the oil industry. According to Ascend Flightglobal, Textron's Bell Helicopters (TXT) is likely to skip the oil downturn because only 2% of its backlogs come from oil and gas customers.
Sikorsky faces higher aftermarket risk
In the helicopter manufacturing industry, aftermarket revenues are often as large as new equipment sales. As more and more helicopters get parked, manufacturers are losing out on lucrative aftermarket sales.
Notably, Sikorsky seems to have a larger aftermarket risk than other players, with 11% of Sikorsky's in-service fleets exposed to the oil sector. By comparison, only 8% and 4% of Bell and Airbus Helicopter's in-service fleets, respectively, cater to the oil market. Leonardo helicopters, which utilizes engines made by Pratt & Whitney (a subsidiary of United Technologies (UTX) has 11% of its in-service fleets exposed to the oil and gas sector.