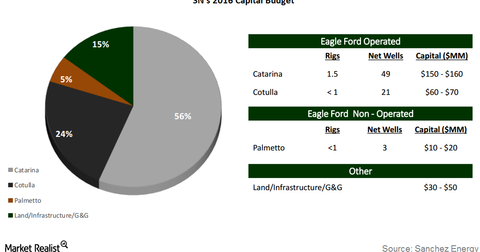 Exploring Sanchez Energy's Management Objectives and Strategies
By Keisha Bandz

Updated
Sanchez's key management objectives
Sanchez Energy's (SN) key focus in 2016 has been the development of its core Eagle Ford operations, especially in what it deems to be "high rate of return drilling areas," namely the Cotulla and Catarina regions. SN's Analyst Day presentation, released on January 20, 2016, noted that these were "newly emerging areas, providing outstanding returns, that were not valued by SN prior to Mid-2015."
The majority of SN's 2016 capital expenditure (capex) has been allocated to the Catarina and Cotulla regions.
SN's capex guidance range for 2016 was updated to $250 million–$300 million in 2Q16, compared to the $200 million–$250 million it had anticipated at the start of this year. Its updated capex guidance still represents a fall of ~50% at the midpoint compared to 2015.
According to the company, its 2016 capex guidance has risen on account of its confidence in its "liquidity and stronger than expected operating and financial performance in the first half of the year." We'll discuss SN's liquidity position later in this series.
Another key strategy being deployed by SN is its building its relationship with Sanchez Production Partners (SPP), which serves as an alternative to raising capital via debt or equity markets.
Article continues below advertisement
As we noted in Part 1, SN has been selling its midstream and non-core assets to SPP since 2015. Its latest transaction with SPP marks the third transaction between the two, totaling ~$475 million. SN said in its 2Q16 earnings conference, "We plan to continue building upon our relationship with SPP and have identified several additional strategic financing opportunities worth pursuing in the current market."
Sanchez has also been focusing on reducing costs. We'll look at that in detail later in this series.