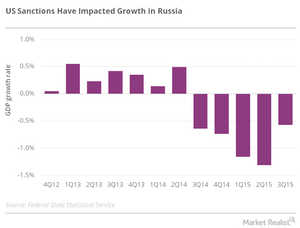 Russia Retaliates against the US for Imposing Sanctions
By Surbhi Jain

Nov. 22 2019, Updated 6:32 a.m. ET
Sanctions have impacted growth in Russia
The Russian government certainly expressed its willingness to get back at the US (IVV) (VOO). The economy's growth has been impacted by trade and economic sanctions imposed by the US along with the fall in oil's price since mid-2014.
The Russian economy (officially) fell into recession in 2Q15. The economy's output, as popularly measured by the GDP growth rate, has been falling since 2Q15. Foreign direct investment inflows have also been impacted.
Article continues below advertisement
"Unfriendly actions" by the US
There have been certain "unfriendly actions" by the US, which caused the emerging market (EEM) (EMB) to take action.
In April 2014, the US Department of Energy informed the Russian state corporation Rostatom, the world's leader in uranium enrichment, that it would be suspending cooperation on nuclear energy in retaliation to Russia's (ERUS) intervention in Ukraine.
On September 28, 2016, US Secretary of State John Kerry told Russian Foreign Minister Sergei Lavrov that the US was preparing to suspend engagements with Russia unless it took prompt action to end the attack on the rebel-held areas of Aleppo. However, Russia chose not to comply and continued to support Syrian loyalists in their efforts.
These actions caused the Russian government to retaliate with its own set of suspensions against the US.